Powder brows or Ombre brows are a semi-permanent eyebrow makeup technique that gives misty, soft, and shaded brows. The artist manually inserts the pigment on the upper layers of the skin using a dotting technique. The whole procedure closely resembles the micro-blading process, but the technique used is different.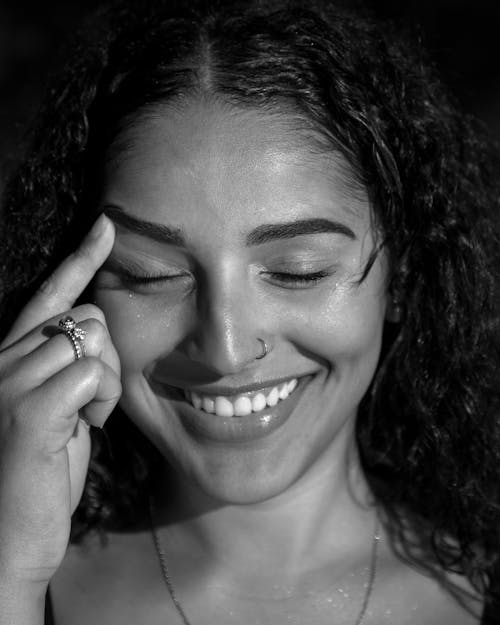 What are powder brows?
When it comes to permanent and semi-permanent makeup of eyebrows, it is quite sure that you all spend a good sum to give your eyebrows a perfect shape. In this regard, the first thing that comes to your mind is the micro-blading technique that provides an illusion of fuller and beautiful brows. Nowadays, you might have heard about the latest brow technique revolving around social media-powder brows.
Powder brows, also known as Ombre powder brows or Ombre brows, are a semi-permanent makeup technique of perfecting the brows, filling in empty areas, and producing an incline effect.
In this procedure, the artist first inserts pigments on the top layers of skin by using the dotting technique. The artist uses special instruments to produce a misty, powdery look on the client's eyebrows.
This awesome technique initiated in Asia ruled around for decades and has been slowly improving over the years. It gives a proper shape and depth to your eyebrows. Mostly, women with oily skin or combination skin choose it. Women who fill in their brows regularly with makeup also find it a great alternative.
Before this people used Caster oil for eyebrows now Powder brows is an accurate and reliable technique that lasts for a long. Mostly, it lasts anywhere from two to five years. However, retention is based upon numerous factors such as lifestyle, skin type, health conditions, etc.
Effects of Powder Brows:
Powder brows is an amazing technique bounded to numerous fruits and benefits:

Powder for brows can work on any skin type unlike some semi-permanent techniques like micro-blading which may not contribute to oily skin types.


Using this technique, your eyebrows will give a fuller, well-shaped, and well-dramatic look.


The best thing about this technique is that it lasts longer, up to five years.


The powder for brows technique is a cost-friendly technique that comparatively demands a short sum.


Moreover, this semi-permanent technique is less painful as compared to other techniques that fall under the same technique.
Side effects of Powder Brows:
There aren't any long-lasting side effects of the ombre eyebrows technique but you may experience some potential and short-lasting side effects.

Initially, your powdered eyebrows will give a swollen look.

Your eyebrows will look too dark at the start.

You may encounter itchiness and scab at the start which is quite annoying.

Those with oily skin types may have chances of quick pigment fading.

Also, there might be chances of infections, irritations, and allergies after the procedure is completed.

Moreover, there also is the chance of incorrectly done eyebrows that may look uneven and not natural. But this can be minimized by finding a qualified and skillful artist.
Powder Brows vs. Micro-blading:
The popularity of Micro balding spread rapidly due to its hyper-realistic effect. Millions of women all around the world are stacked to this procedure to get a perfect and definite eyebrow shape. Many people think that micro-blading and powder brows techniques are the same. But, they are not right.
Although the two procedures are the same that involve expert inserting pigments on the top layer of skin, there is a slight difference in the technique used and the results.
|Microblading|Powder Brows||
| — | — | — | — | — |
|The micro-blading techniques create single strokes that bear a resemblance to eyebrow hair.||the powder brow technique produces small dots to gain the powder brow effect creating a misty, powder-filled brow.||
|In the micro-blading technique, the micro incisions are done when compared, the results are different.||Though the hand instruments are used in the powder brow technique, mostly it is done with the machine.||
|The micro-blading results in single hair strokes whereas the powder brows give a soft makeup look.| |The powder brow technique can be applied to all skin types whereas micro-blading can't do the same.||
|Another noticeable difference is that micro-blading does not remain for a long time.| |Powder brows remain for a long time which is usually around 2 years.||
So, the major differences are discussed above. But these also have some similarities that are given below:

Both the techniques are semi-permanent cosmetic procedures that deal with eyebrows.

Both procedures are equally painful and uncomfortable.

The healing time for both techniques is almost the same. Around 4-6 weeks max are taken to heal completely.

The price range for both may vary a bit but there is no major difference in it such as on average, micro-blading costs $400 while powder brows cost $500.
It should be noted that the micro-blading and powder brows techniques can be combined that can produce fine hair strokes followed by a smooth shade filling for wonderful natural brows.
Powder brows treatment procedure:
The whole powder brows procedure takes almost 2 hours to complete. But the time taken by the treatment depends upon the artist you are hiring. This procedure completes in the following steps:
STEP 1: The first step consists of shaping the brows by preparing the area around the eyebrows through threading and cleaning it.
STEP 2: A topical numbing cream is applied to the eyebrow area and left for half an hour until it works.
STEP 3: Selecting a pigment to insert according to the color of your hair and skin.
STEP 4: A proper measurement of the area around the eyebrow is taken to note the face shape,
STEP 5: Consists of the dotting process in which fine dots are created by using a hand tool and covering them with the color or pigment. If the process is painful, more numbing cream is applied to that area.
STEP 6: The final layer of pigment is inserted and then the eyebrow area is cleaned.
STEP 7: The final step involves filling in the empty spaces and the unhealed areas.

Below the video will clear out how the procedure is done for powder brows.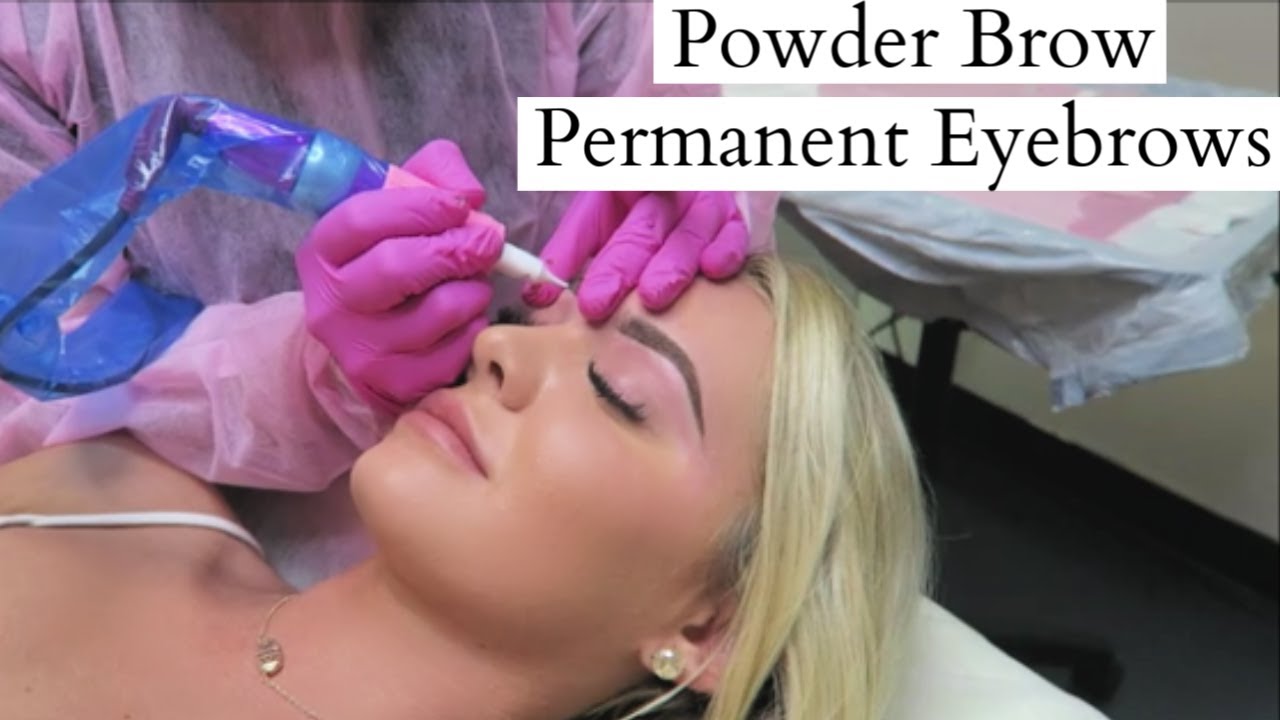 Is the powder brows technique painful?
The answer to this question may be difficult because the range of the pain varies from person to person. This treatment may be quite easy and uncomplicated for those who wax or pluck their eyebrows whereas those who have never wax or plucked their eyebrows may feel the same level of pain and discomfort.
But you should not worry because the best thing is that the artist will apply a numbing cream before taking the start to minimize the chances of pain as much as they can.
Is Powder brow treatment safe?
The powder brow technique is a sensitive treatment that carries certain risks due to the insertions involved in it This treatment is forbidden for people who are suffering from diabetes, heart conditions, allergies, women who are pregnant, and many others. So, your artist should inquire about you before starting the process.
Moreover, you might suffer from various skin infections. This is because numerous powder brows artists reuse the equipment or non-sterile instruments Always choose a qualified and experienced artist who knows all the instructions and uses sterile equipment. Then, you don't have to worry about it.
How should I prepare myself for the treatment?
Before going for the powder brows treatment, you have to prepare yourself by keeping the following things in your mind.

Make sure that you are completely fit and healthy for the treatment because you have to fill a medical history form before the treatment starts.

Stay away from caffeinated and alcoholic drinks at least 48 hours before your treatment.

Do not use any blood-thinning medications like ibuprofen, Aspirin, Niacin, etc. at least ten days before your treatment.

Do not wax, tan, or tint the area around the eyebrows at least three days before your treatment.

Stay away from any anti-aging treatments for at least 14 days and from facial injections for at least one month before your appointment.

Also, keep in mind your menstrual dates and not book your appointment on those days as it can increase your pain and discomfort.

On the day of your treatment, bring along the cosmetic you use and pictures of the look you want.
Powder brows healing:
Powder brows typically heal in 4-6 weeks after which your eyebrows will take a final and natural shape. Naturally, some people heal faster while some heal slower, so don't compare yourself with other people. If it requires a long time then contact your artist.
You will experience swollen and red skin immediately after the treatment is completed, this will last after 4 days. The result will look around 50% darker than the desired effect and will get lightened in a week or more. The desired effect will be visible only after the month of the procedure.
The first few days are crucial and you will need to be extra careful. Follow the aftercare instructions and do not apply any makeup.
Typically there are six stages of this healing process and some of them might be irritating and discomfort able but you have to face each of them.
STAGE 1: It is obvious, that you'll have freshly done eyebrows that are dark and swollen.
STAGE 2: You will experience severe scabbing that might be irritating.
STAGE 3: Stage 3 results in light patchy eyebrows.
STAGE 4: Gradually, the color of your eyebrows will become visible.
STAGE 5: This one involves touch up.
STAGE 6: In the last stage, a complete recovery is achieved.
All these stages are normal and experienced by everyone. Always notice what is going right and what is not. You should inform your artist if something is wrong and worrying you a lot.
Powder Brows aftercare:
The powder brows are an amazing technique that can enhance your facial beauty but it's not just based upon your checkout from the salon, a proper aftercare is also required.
Some basic rules should be followed in the initial days after the procedure is finished. These rules are a bit strict but not hard to follow.

Avoid touching or rubbing them.

Avoid wearing makeup.

Avoid sleeping on the face.

Don't perform any physical activities such as house chores or any outdoor chores.

Stay away from sun exposure and tanning.

Don't go for any facial treatment unless or until the brows are healed.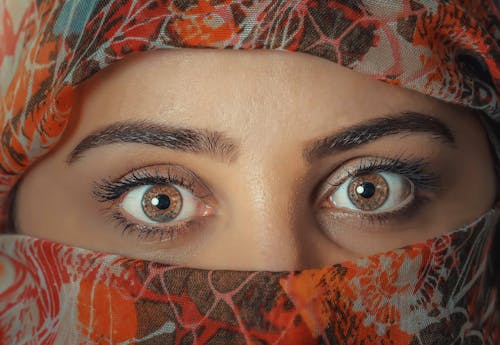 What factors can cause the powder brows to fade quickly?
As mentioned above, powder brows can last for a long time depending upon your skin type and aftercare. But some factors can cause your powder brows to fade quickly and thus lower their lifespan.

The main cause is the sun-prolong sun exposure, sunbathing can cause your powder brows to fade quickly. So always keep your powder brows in shade. Wear a cap or scarf and cover your brows whenever you go out in the sun.

Apart from that, exfoliating can also be an important cause for the pigment to fade out.

Other factors include oily skin and some medical conditions that can make the color fade off quickly.
How much do powder brows cost?
The price of powder brow treatment may vary from city to city. It mainly depends upon which artist you are getting treatment from. However, the average price of powder brows costs somewhere between $500 and $600. As per our opinion, you should not make your decision of where to go for it based on price. Make sure you are getting the treatment from a professional and an experienced person who knows what to do.
Powder brows London:
In London, there are many beauty salons and clinics that give the best powder for brows treatment in London and some of them are as follows.

In London, you can have the best powder for brows at Liarna Jessica London Limited She has good ratings for her make-up clinic Liarna Jessica gives the most popular cosmetic treatment for eyebrow. An Expert uses micro-blading techniques which enhance the brows like natural brows.

In Borciani London Beauty Salon they give the best treatment for brows.
You can contact at +442077929132

In Banoix Brows which is an Eyebrow bar they also give the best treatment for powder bros, it is based in London, United Kingdom.

In Sian Dellar which is a permanent make-up clinic is based in Unite kingdom, London gives the best treatment for powder brows.
You can contact at +442077179665
Powder brows Dallas:
In the Dallas /Fort Worth area, they provide brow services with many other services too.

Permanent make-up clinic provides powder brow also has the highest ratings.
You can contact at +1214-334-5232

BrowBeat Studio Dallas Advanced Eyebrow Micro-blading Experts are providing the best powder brows In United States.
You can contact at +12144323077
Permanent makeup clinic is providing Brow services which are the best services due to its rating it is very popular.
You can contact at +14698054148.
Powder brows Auckland:
It annoys most of the time to apply brow gel or even pencils especially when you are in hurry and it is most annoying when you have to go out for a job etc and you have to apply it every day so it's better to have a treatment like micro-blading your brows or powder for bows now also in Auckland available.

In Artistique Brow and Beauty which is a permanent make-up clinic is situated in Silverdale.
You can contact at 021369982

In Auckland Lash Brows which is a beauty Salon and is situated in Unit J/4 Antares and they provide a marvelous Ombre powder makeup effect.
You can contact at +64 9-475 5629

In Victoria Park Market Auckland there is a permanent make-up clinic name "Wake Up With Makeup" they provide Powder Brow services.
You can contact at +64 800 737 668.

In Glamink which is a permanent makeup clinic in Auckland provides treatment for powder brow.
You can contact at +64 21 151 1966.
Summary:
The powder brows technique is used to get definite, proper, and beautiful eyebrows with a gradient shape. Though it is associated with pros and cons, the procedure involves some steps to complete. Powder brows heal after some time. The healing process is based on six stages. Proper aftercare is also advised after the treatment is finished. This treatment doesn't cost much.
Frequently Asked Questions:
Here are some questions that are asked frequently about powder brows and those questions are as follows.
1. How long does Powder Brow last?
Powder brows last around 1-3 years. Not only the treatment of powder brows is enough but also you have to go for a touch-up procedure after exactly 2 months of the first treatment.
2. What is the difference between Microblading and powder brows?
Powder brows help to have a powdered look instead of hair strokes of the individual while micro-blading uses a hand tool which helps in giving real hair strokes in your bowline Powdered brows give a soft makeup look and it is best for clients who have oily skin.
3. Do powder brows look natural?
The procedures of powder brows have good treatment in 1985 and it looked natural too also Ombre fill brows gives a treatment like natural brows also you can go and try brow soap it's even not painful and your natural brows will look thicker too.
4. Are powder brows painful?
As we know that there are creams that have been used for numbing now whatever the painful treatment you're going to have it will give you some discomfort so it is better not to take chance and ask your expert to apply a numb cream.
5. Can powder brows be removed?
Yes, Powder brows can be removed after 4-6 weeks
of the treatment, once it's healed otherwise immediately you cannot remove the eyebrow tattoo right after the treatment.
6. What happens if I get my powder brows wet?
During the process of healing, you cannot get your eyebrows wet because it is not recommended as water will not let micro-blading stay in the skin.
7. Does Micro-blading ruin your natural eyebrows?
No, it does not affect your natural eyebrows when your eyebrows even when your new brows come you just have to reshape them into your tattoo.
8. Why are my powder brows so dark?
It is a very common thing and it can happen that after micro-blading or powder brows your brows can be darker in color than your natural brows because your expert knows that your brows will fade by and by over time or maybe after the healing of your brows.
9. How do you take care of Ombre powder eyebrows?
Do not use a washcloth on your new brows neither uses masks nor any kind of scrubs.
Apply sunscreen to your eyebrows daily.
Do not try to sweat.
Do not apply any makeup.
Do not face the sun.
Try to avoid long showers.
10. How can I cover my eyebrows on a sunbed?
You can simply apply the SPF Lotion to the area of your eyebrows to cover your eyebrows on a sunbed also you do not have to face the direct sunlight.
Conclusion:
Powder brows treatment is a famous form of semi-permanent cosmetic technique that is bounded with a lot of benefits such as saving the time you spend every morning shading your eyebrows. Make sure to get proper information about the salon and the artist to choose from before making the decision. Don't think much about the cost because it can cost you a lot in the end if not treated properly.
Related Articles: