Brassy hair refers to the undesirable hair tones that appear in colored hair. It usually happens in dark hair that gets colored platinum or blonde. It can also occur in hair that's been highlighted or after a lightening or bleaching process. Hair turns brassy when the color or dye starts to fade over time.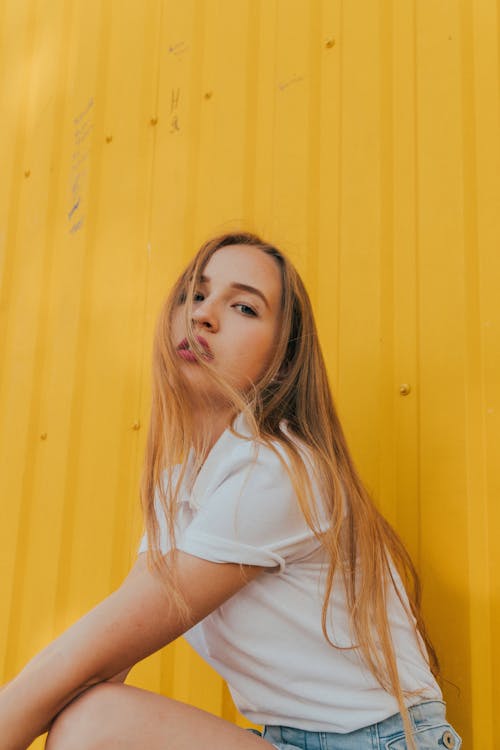 What is Brassy hair?
It often occurs that after weeks of dyeing your hair blonde, something strange is noticed. The shade you selected for your hair and left for your home with is no more. Your hair has now taken on an unwanted warm tone such as yellow, red, or orange tone. That is what gives Brassy hair. Brassiness ranks first in the list of all the hair problems and it can make your hair look really ugly. Brassiness often happens in the dark hair like burgundy hair as they pull on the undesirable hair tones when it gets dyed platinum or blond. However, it can also occur in the highlighted hair or the hair that's been through a lightening or bleaching process. So, if you've recently experienced brassiness and have landed here to know about the reasons for hair brassiness and tips to get rid of it then keep scrolling down.

Hair has a natural undercoat that appears when you color your hair or have long sun exposure. This is generally called brass. Some different undercoats or tones appear depending upon in which color you have lightened or darken your hair. According to some experts, Brassiness is usually found in all hair pigments particularly in ethnic hair such as Asian or black textured hair.

When your hair gets lightened to a dark brown color, you are more likely to get a red undercoat or tone. When your hair gets lightened to a medium brown color, light Ash brown hair you may get an orange undercoat or tone. When you lighten your hair to blonde hair color, you get a yellow undercoat.

When you lighten your hair, all these happen, the natural hair color raised to make space for the new color. As all hair has some scale of underlying warmth, the uplifting of the natural color makes the undesirable yellow, red(what colors make red click to know), and orange tones more visible allowing brassiness to show itself. These can get worse until steps are taken to treat them.
According to some professional hairstylists, brassiness can also take place by oxidation from the sun, and air, exposure to minerals or bad chemicals in the water while you shower.
How to get rid of brassy hair?
Brassy hair is a problem you can easily get rid of. When you have dyed blonde or lightened hair, it won't be as vibrant and beautiful as it will in the salon, after a few days. Every time you wash your new colored hair, the dye fades out of it and harsh chemicals and minerals in the water may change its appearance. Washing it for few times will slowly remove the salon look leaving your hair brassy When your hair will grow new will come from roots so in this way your dyed color will take time to vanish now it depends on how long does it take hair to grow again.
In that case, we got you covered. Here are some useful tips that will help you get rid of unwanted brassiness. Following these tips and tricks will help you maintain the natural look of your blonde hair and what's even best is that unwanted brassiness will be a thing of the past.

Head on to the salon for toner or gloss:
According to many professional artists, applying a gloss or toner for brassy hair can be the correct and easiest way to fix brassy hair. Toner, a translucent deposit of hair color that fades after a few weeks, not only changes your hair color but can be a wonderful brassy hair fixer too. Also known as demi-permanent color, hair toners can help to neutralize the undesirable brassy or warmer tones like yellow, red, or orange tones appearing in your hair.
These glosses or toners give the best outcomes in this regard since they contain enough pigment to improve your hair color as well as they will enhance the shine of your hair when applied by a professional hair colorist in the salon or get a DIY Deep conditioner from a salon. So, you will notice a huge difference in just one sitting.

Choose the best permanent hair color:
Always choose a permanent hair color and one that is closer to your natural hair color. Choose a cool hair color such as the one that begins with the word "ash" since they are long-lasting and minimize hair's chances to turn brassy.
If you are thinking about the warmer tones; there are enough lighter colors like light ash brown hair that come with a good balance of cool tones. So, you can go for these as well.
Remember, the more your hair's final color is closer to your natural hair color, the less will be the chances of brassiness. We suggest that don't color your hair beyond two shades from your natural hair color.
Moreover, ask your hairstylist to work on every strand. This lowers the chances for the whole head to turn brass.

Wash your hair with a purple shampoo:
If you can't make your way to the salon, one of the most effective products to eliminate brassiness is using purple or blue shampoo. Yellow and red are opposites on the color wheel. Purple formulae cancel out the orange, yellow and red tones by depositing a sheer violet-tinged tint. It neutralizes the overly warm, brassy tones.
Swap your shampoo with a purple shampoo every couple of weeks. Apply it on your hair and leave it for 3-5 minutes before rinsing. It will be more perfect if you search for a color-treating hair shampoo among the purple shampoos as these will preserve your natural hair color.

Protect your hair from prolonged sun exposure:
I know: Saying no to soaking some sun rays is hard for you. But if you want your hair color to stay for long, it's better to stay away from it.
Sun exposure can contribute a lot to damaging your hair color. Exposing your hair to extreme sun exposure can dry out your hair color making it easy to fade away quickly. When your hair is exposed to sun rays, your hair's natural undercoats are exposed which can welcomes the brassiness very soon.
The UV rays are another major cause of hair brassiness that fades your hair color and lightens the hair bringing out the brassiness. So, every time you go out in the sun, make sure to cover your hair with a hat or use UV protectant spray to avoid unwelcomed brassiness and prevent ■■■■■■■■■ color fading.

Spend less time in swimming pools:
The swimming pools are the most visited places, particularly in summers. If you want a long-lasting hair color just like these days people are getting permanent blue hair dye, stay away from swimming pools.
This is because the swimming pools contain chlorine which is not your hair's friend. This chemical can easily strip your hair of natural oils making it dry and brittle. Damaged hair is more susceptible to turn brassy.
Before swimming in chlorinated pools or saltwater, wash your hair with normal water. Since your hair can easily soak any moisture, wash it with clean and non-chemically altered water before the swim.
When you end up swimming, shampoo and condition your hair immediately to overcome the potential damage. Make sure to cover your hair with a hat or scarf before jumping into the pool.

Wash your hair with cool water:
It might be difficult to do but washing your hair with cool water is the best alternative to preserve your hair color. The temperature with which you wash your hair can contribute a lot in preserving your hair color and preventing brassiness.
One of the important things to keep in mind is not to rinse your hair with hot water as it opens the outer cuticle allowing the color to fade quickly. So, go for a cool rinse instead. This will close the cuticle and lock in the moisture and helps the cuticle to lie more softly and becomes glossier and shinier.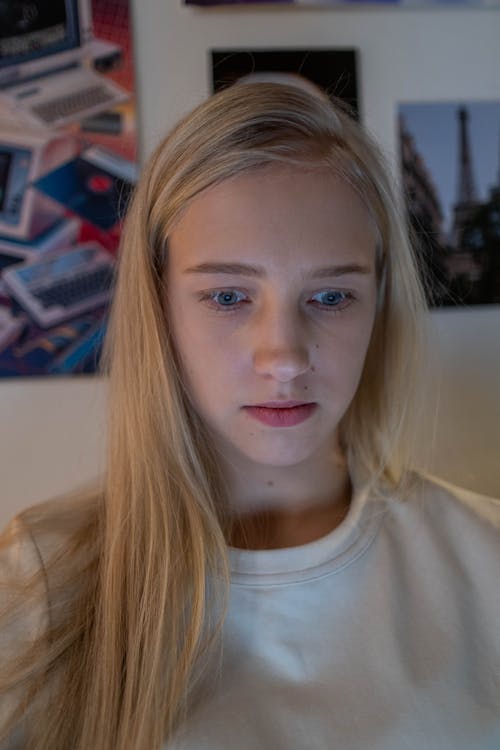 Buy a shower filter for yourself:
It is not only the pool water or chlorinated water that is a threat to your hair turning it brassy-your tap water can also do the same. Your shower water can deposit a huge amount of minerals, including chlorine and iron, on your hair making it dry and the chemicals can pave the way for color fading which in turn can lead to provide a chance for brassy hair to show itself.
In this regard, a shower filter can remove the chemical deposits making your hair color stay for a long time. Moreover, the shower filter can protect your skin and nails from this mineral deposits.

Use good conditioners for shiny and glossy looking hair:
It may sound short but shinny and glossy hair are less likely to turn brass. This can be accomplished using a good conditioning treatment. After treating your hair, go for a shine-infusing gloss. This can add more benefits.
Below the video will help you out by giving tips for preventing brassy hair.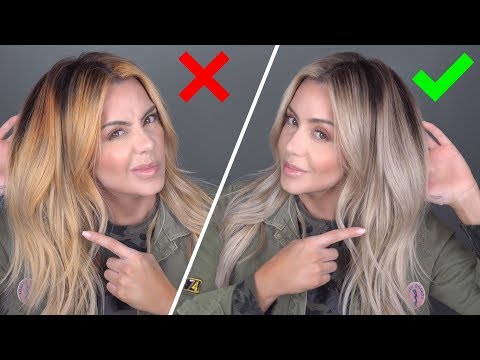 How to tone brassy hair at home?
What does a toner do to hair is all you'll get to know and how to tone at home you'll find an easy tip here too You can tone brassy hair at home through remedies appearance of orange, yellow and red shades in hair when you are expecting a soft ash grey can be devastating. Toning your hair can be the simplest solution for these problems but you might get confused while selecting them in this huge and explosive market.
Another best option to get rid of brassy hair can be your own kitchen. Yes, you got me right. A few ingredients in your kitchen can help you a lot. These are given below:
Fix the brassy hair through vinegar:
To get rid of brassy hair vinegar can be the best homemade brassy hair toner.
Both ingredients should be taken in equal parts. (Half cup of each is enough)
How to apply it:
Mix water and vinegar with water. Every time after washing your hair with shampoo and conditioning it, start massaging vinegar solution through your locks. This will smooth your strands and will make them shiny and glossy.
Fix the brassy hair with baking soda:
Using Baking soda is another easy and simple method to get rid of brassy hair.
What you need
½ teaspoon of purple food color
½ teaspoon of blue food color
One teaspoon of baking soda
Shampoo without sulfate
Bowl and spoon
How to prepare

Take the bowl and add a suitable amount of sulfate-free shampoo enough to cover your whole hair. Add the two food colors and mix them well. While mixing it, add the baking soda and mix it continuously removing the clumps.
How to apply

After the mixture is prepared, use it as a shampoo and leave it on your hair for 12-15 minutes to work, and then rinse thoroughly. Don't forget to use the conditioner after it.
How to get rid of undesirable hair tones:
The unwanted hair tones are always quite irritating whenever you look at your blonde hair. These tones, particularly the yellow-colored tone, can be removed.
What you need?
1. One teaspoon of lemonade 2.A quality conditioner 3.Water 4.Bowl and spoon
How to prepare it?
Start with mixing the suitable amount of conditioner with water making it enough loose to be applied on hair and then add the lemonade in it. Mix it well.
How to apply?
Apply the solution to your hair by dividing it into two parts. Try to cover the small section. Leave it for half an hour to be socked thoroughly by your hair before rinsing it. Remember you don't have to shampoo your hair after this conditioning.
Brassy Blonde Hair:
Blonde hair becomes sometimes too golden or too orange due to many reasons like extreme warm pigments in your hair, minerals in the water, and sometimes a shampoo that breaks away your hair color a good toner for your hair will enhance your hair color By applying home remedies you can cool your hair from brassy hair blond or you can turn to the salon to an expert for getting rid of brassy blonde hair.
Brassy Hair brown:
If your hair turned to brassy brown hair you can restore blue or purple shampoo they basically counteract the effect of the warm shades which already has ruined your color to orange or yellow so by using blue and purple shampoo which is cool colors can fix your brassy hair brown.
Summary:
Brassy hair generally appears when the colored hair begins to fade away. These are the unwanted tones that appear when the hair is dyed platinum or blonde. There are a lot of tips that can help you to get rid of this problem. These tips include some precautions and some home remedies to apply to your hair.
Frequently Asked Questions:
Here are some questions that are frequently asked by the fan of those who love dying their hair and their hair turned brassy so the questions regarding brassy hair are as follows.
1. What color cancels out brassy orange hair?
Blue is the only color that removes unwanted brassy orange hair after bleaching blue color would be used These two colors blue and orange are basically across means they cancel each other out.
2. What home remedy gets rid of brassy hair?
Ingredients:
Method:
First of all on your hair apply the warm coconut oil overnight then take coconut oil, apple cider vinegar, some drops of food color, and one cup of water mix them and the next day apply on your hair quantity depends on the length of your hair then shampoo your hair as you do usually now at last rinse your hair with the vinegar-color mixture.
3. How do I fix orange brassy hair?
By using some steps you can fix your orange brassy hair and the steps are as follows.
Go to a salon and apply a professional toner.
Use blue or purple shampoos.
Use shower filters and professional shampoos.
Dye on your hair a dark color.
4. Does baking soda remove brassy hair?
The baking soda basically lightens the color and the food color fights with brassy tones mix them simply with shampoo and a bit of water then apply to your hair.
5. Does lemon juice remove brassy hair?
From citrus fruits, the acid can also help to remove brassiness, and lemon juice is the best choice always that works with the sun to remove your brassy hair.
What you need?
3/4 cup of water
1/4 cup of lemon juice
2 tbsp honey
Spray bottle
Method # 1:
Mix ingredients into the spray bottle then shake well until honey is dissolved now make the sections of your hair and spray well by covering your eyes for the sake of protection because lemon juice can affect your eyes.
Method # 2:
Now find out the place where you will get the direct sunlight to apply the toner and leave for 2 hours then wash it with shampoo and conditioner.
6: What's the best toner for brassy hair?
There are various toners for brassy hair and the best among them are as follows.

T18 Toner (Lightest Ash Blonde).

Leave-in Purple Toner.

Purple Shampoo.

Shimmer Lights (Blonde and Silver).

L'Oreal Paris Brass Banisher (Colorist Secrets).

Fudge (Violet Toning Shampoo).
7. How can I fix my brassy hair at home?
According to Hair Color Experts, six ways can easily fix your hair and prevent brassy hair and the list are as follows.
From direct sunlight protect your hair.
With cool water wash your hair.
Do not spend time on the beach and pool.
Call your hairstylist for a toner.
Use purple shampoos.
Get a filter shower.
8. How often can I tone my brassy hair?
From getting rid of unwanted brassy hair you can tone them by using a toner at least every three-five weeks you can also care for your hair routinely by using sulfate-free products, and by using purple or blue professional shampoos.
9. What Wella toner should I use for orange brassy hair?
Basically Wella is a brand and in many shades, it offers toners which lightens brassy hair or lightens bleached blonde hair if your hair is naturally dark then use the toner T15, T11, T27, or T35.
10. What Colors go with orange hair?
Colors that go so well with orange hair are as follows.
Orange & Blue.
Burnt orange & Beige
Orange & Purple.
Orange & Pink.
Orange & Green.
Orange &Yellow.
Orange & Grey.
Conclusion:
Brassy hair can lead your hair to a worse condition. The unwanted hair tones make the hair look ugly and unhealthy. You should go for a quality hair treatment to get rid of this. If you can't afford any hair beauty treatment in a salon, your kitchen is the most easily accessible option to turn your brassy hair into shiny and glossy strands.
Related Articles: