Hairs are the most critical and sensitive part of our body, as they reflect our whole personality. One might wonder how long it does take for hair to grow again? Generally, hairs grow half-inch per month and almost 6 inches per year. Hair fall happens due to a lot of factors. Different methods can help you to speed up your hair growth. These methods not only speed up your hair growth but also make your hair more thick and strong. For more detail and guidance, keep reading…
How long does it take for hair to grow back?
There is no exact amount or ratio for the normal growth of hair. However, on average, it takes half an inch per month for hair to grow naturally. As a result, 6 inches of hair growth per year. That seems to be a prolonged process for hair growth.
Regrowth of hair also depends on the factors causing hair to fall. Various reasons cause hair fall, stops your hair growth, or may also slow down your hair growth circle. Hair regrowth may vary from person to person, depending on the factors that cause hair fall.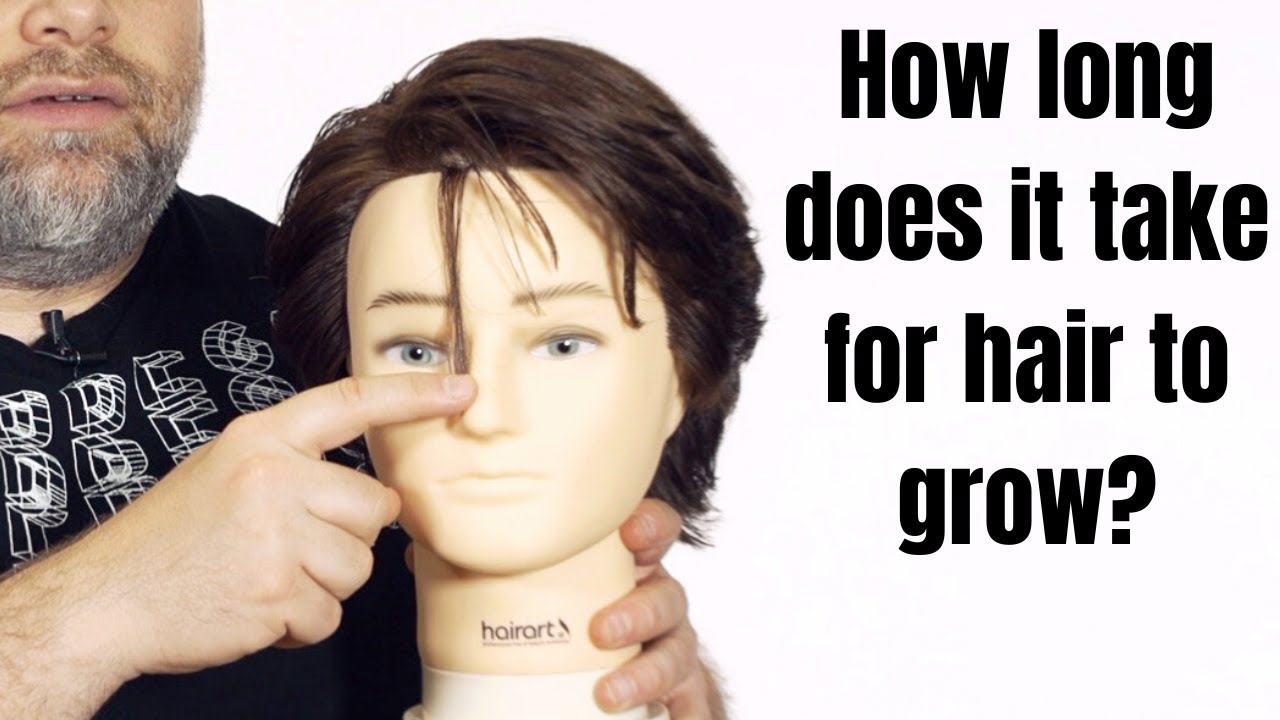 Therefore, before we talk about how long it does take for hair to grow back, we must know about the factors that affect or slow down hair growth. But before we jump to factors affecting hair growth, let's just have a glimpse at the natural hair growth cycle.
Hair growth cycle:
There are small packets in our skin, called follicles. According to American research, there are about four to five million follicles in the human body, of which around one million strands present on the scalp. These follicles are for a lifetime. We don't create new hairs during any age or part of our life.
Naturally, the hair growth process proceeds in three stages that are as follows:
1. Anagen
Anagen is the most active hair growth stage. This stage of hair growth remains active between two to eight years. A significant portion of hair follicles on the scalp are in this phase. The average growth rate for the anagen phase is half inches per month and 6 inches per year.
The cells in the origin of hair are separating quickly. When new hair generates, it pushes the previous growing hair out, and that hair goes up to the scalp and finally out. That means hair that starts growing no longer stays in the anagen phase.
People with short hair have a short active anagen phase, while on the other hand, people with long hair have a long busy anagen period.
Head hair has a longer active anagen phase, while other body parts, i.e., eyelashes, eyebrows, leg, and arm hair, have a short period for active anagen phase, i.e., 35 to 45 days. That's why the body hair is much more straightforward as compared to the head hair.
2. Catagen
This phase is a transitional phase. On average, 2 to 4% of total hairs remain in the catagen phase. When your hair stops growing due to any reason, this hair stage becomes active. It remains active for four to six weeks.
When hair stops growing, the outer hair scabbard roots shrinks and gets attached to the hair's basis. That's how the formation of new hairs takes place, known as a club hair.
3. Telogen
This phase becomes active when hair begins to fall out. On average, this stage lasts for 3 to 4 months. Only 6 to 12% of hair follicles are present on the scalp during this phase. Telogen stages remain active almost a hundred days for scalp hair and a more extended period for other body hairs.
During this phase, the hair follicles become inactive, and the formation of club hair takes place. If you pull out any hair during this phase, it will cause dehydrated, stiff, and white substantial at the root.
How hair supplements affect the hair growth cycle?
Hair supplements can play a critical role in hair growth unless you select the right supplement with a sufficient amount of essential nutrients. There is a wide range of hair products available in the market.
Hair supplements must contain all essential nutrients for hair, I.e., Vitamin C, proteins, iron, and other healthy nutrients. However, these supplements can be more useful if we intake them from food. One must spend enough food with all the essential nutrients for hair growth.
Here are some nutrients and vitamins that can increase hair growth:
• Vitamin A. All body cells need this vitamin for proper growth.
• Vitamin B. Also known as biotin. That is the best vitamin amongst all for proper hair growth.
• Vitamin C. If you are facing hair loss due to age or any other cause, this vitamin is the best savage.
• Vitamin D
• Iron
• Proteins
• Zinc
Note: Try to utilize hair supplements with all these necessary nutrients.
How long it takes to grow hair again after shaving or waxing?
Shaving and waxing don't end up hair from their follicle roots. When you shave, you remove only the upper portion of hair that is present on the scalp. So, the hair will begin to grow within 2-3 days. You will notice stubble on the very next day of shaving.
Waxing removes hair from the roots of follicles. It ultimately ends up your hair from the inner surface. It takes 2 -3 weeks while you see stubble again. After the wax, it usually takes 3 to 5 weeks to grow hair again. People generally do wax once every three months.
Conclusion
Hairs are that part of our body that reflects our whole personality. Therefore, one might wonder how long it takes for the hair to grow back. Well, the answer to that question depends on various factors. Hair growth varies from individual to individual, depending on the specific cause.
Everyone faces hair loss due to various factors. Regrowth of hairs after hair loss ultimately depends on these factors. Some common hair loss factors are age, climate, hormonal changes, hair extensions, pregnancy period, chemo, and ethnicities.
There are plenty of methods and tips that can help you to grow your faster than average. A proper hair care routine, avoiding fatty foods, proper shampooing, and oiling are the bonus points that can help you maintain an average hair growth rate.
Read more