What does Hennessy taste like? The Hennessy has a deeper and richer color with a good balance of Oaky and a traditional Grapy taste. Hennessy is a French cognac distiller with its headquarters located in Cognac, France. The Hennessy VS has a smooth texture with a good presence of Oak and Vanilla. It is one of the big names in Cognac and their V.S (Very Special) bottling is one of the most popular.
Hennessy V.S. Cognac is very bold and opens with sweet wood and nutty fragrances to remind you that it is in the room. The palate is warm and filled with grape, citrus, and apple notes, along with a considerable amount of wood, which is not overpowering but eminently pleasing.
What is Hennessey?
Hennessy is Cognac, which is a brandy made in Cognac, France. But the brand was created by an Irishman. Richard Hennessy was born to an aristocratic family in County Cork in 1724. As was fairly common for a man of his stature, Hennessy left Ireland for continental Europe, where he fought for Louis XV's army, founded Hennessy in 1765, and began the family legacy of getting very classy people drunk.
At present, Hennessy, or Jas Hennessy & Co. sells about 50 million bottles of this exquisite brandy every year. For contextual purposes, that is almost 40% of the total market share around the globe.
The drink is a major feature in night life, and hugely popular in Hip Hop culture with rap artist, Nas at the forefront of its campaigns. From the V.S, V.S.O.P to the X.O and every other brand of Hennessy, there is a unique taste that satisfies the cognac lover
WHAT IS COGNAC?
Cognac, and its older cousin Armagnac, are two glorious products of man's eternal desire to turn anything and everything into alcohol. Both Cognac and Armagnac are grape brandies or, essentially, distilled wines with higher ABVs. Basic Hennessy is a combination of 40 distillations, which is then French-oak-barrel-aged and sipped — ideally with extreme classiness — out of a tulip-shaped snifter. The oak definitely has an impact on the brandy, but it's subtler, often nutty or toasty, drying out richer Cognac notes like tender fruit, vanilla, and spice.
THE ALPHABET IS YOUR GUIDE TO HENNESSY.

The letters that come after the name Hennessy (V.S., X.O., V.S.O.P., etc.) are actually straightforward, useful ways to gauge a brandy's impact on your palate — and your wallet. Fortunately for brandy drinkers and the brandy curious, we wrote up a handy guide. But the gist of the letters is a guide to aging — "Very Old," "Very Special," "Extra Old," and so forth.
History of Hennessy Cognac
Located in the Cognac region of France, the Hennessy cognac distillery was founded by Irishman Richard Hennessy in 1765, an Irish officer serving in the army of Louis XV. Following a record of productive growth in France and surrounding European countries, Hennessy was first imported to America in 1794, nearly 30 years after it was born.
The exportation to America signaled the birth of the cognac as an internationally celebrated day. That international recognition was first registered by The Prince of Wales, later King George IV of Great Britain. Being a great connoisseur of cognac, the King asked Hennessy in 1817 to create a "very superior old pale cognac" – and the Hennessy V.S.O.P was created. The initials V.S.O.P – Very Superior Old Pale – have been used since then as a standard for the entire cognac industry.
A year later, Empress Maria Federovna of Russia asked Maison Hennessy to produce his cognac as a birthday present for her son Czar Alexander, and that was how Hennessy found its way to cold Russia. Having assumed the status of a global brand, the need came up for Hennessy to have a widely recognized logo. The Cognac house deiced to go for an iconic fist clutching a hatchet as its official symbol in 1856. The symbol was used in memory of its founder Richard Hennessy's 12-year career with the French army.
In 1865, Maurice Hennessy, great-grandson of founder Richard Hennessy, began to classify the brand based on stars. His use of varying numbers of stars to designate different qualities led to Hennessy's Three Star Cognac, today is known as V.S (Very Special). As with the V.S.O.P, this was copied by other brands in the industry.
Hennessy marked a significant feat in history when, in 1949, bottles of Hennessy 3-Star cognacs were packed as part of Paul-Emilie Victor's luggage as he set out on his expedition to the Arctic. Right to say then that, Hennessy has journeyed from Cognac to the end of the world.
In the 1970s, Kilian Hennessy assumed office as the CEO of Hennessy and initiated the company's 1971 merger with Moët et Chandon, which created Moët Hennessy. Moet Hennesy merged with Louis Vuitton in 1987, and the Louis Vuitton • Moët-Hennessy or LVMH was created – the world's biggest, luxury brand company.
What is Hennessy made from?
Like every other cognac, Hennessy is made from grapes grown in the Charante region of France. With its chalky, stony soil and sunny temperate climate, the region is perfect for vine growing.
For Hennessy, the crew is made up mostly of Ugni Blanc grapes, which have prevailed as the dominant grape in the Cognac region. Only the eau-de-vie from the first four crus is used due to its fruity, light white wine ideal for distillation.
The grapes are pressed to get the juice which is left to ferment for two or three weeks using modern fermentation processes, usually in October. Yeast is added to the juice, which helps convert the sugar in the juice into alcohol of about 7% to 8%. The fermented juice is then distilled through a time-tested method that uses traditionally shaped Charentais copper stills, also known as an alembic. Two distillations must be carried out; the resulting eau-de-vie is a colorless spirit of about 70% alcohol.
The distillation process is done twice for the wine to qualify as a cognac – usually, the resulting eau-de-vie is a white "water-of-life" spirit with 70% alcohol. Once the distillation is done, the wine is then stored in casks made from the nearby Limousin or Tronçais forest. The wood is perfect for aging cognacs due to their low resin content.
As the cognac interacts with the cask and air, it loses both alcohol and water – more of alcohol than water such that it reduces to 40%. The Cognac is then transferred to glass carboys called bonbons for storage before it is blended. Throughout the aging period, the casks are sampled regularly by lowering a glass vial called a "pirouette" into an opening on the cask, according to a plan laid out by the Master Blender. The aging process sometimes lasts for centuries.
The blending of the cognac, or marriage, as it is otherwise called is necessary to achieve the unique taste peculiar to Hennessy. The Master Blender oversees the blending process to ensure that the mark of quality and taste remains consistent and true to the Hennessy standard.
The age of the cognac is calculated as that of the youngest component used in the blend. The blend is usually of different ages and from different local areas. Once the blended cognac is ready, it is then bottled and your Hennessy cognac is ready. Hennessy was one of the first spirits brands to deliver its offerings in bottles.
Procedure of making Hennessy?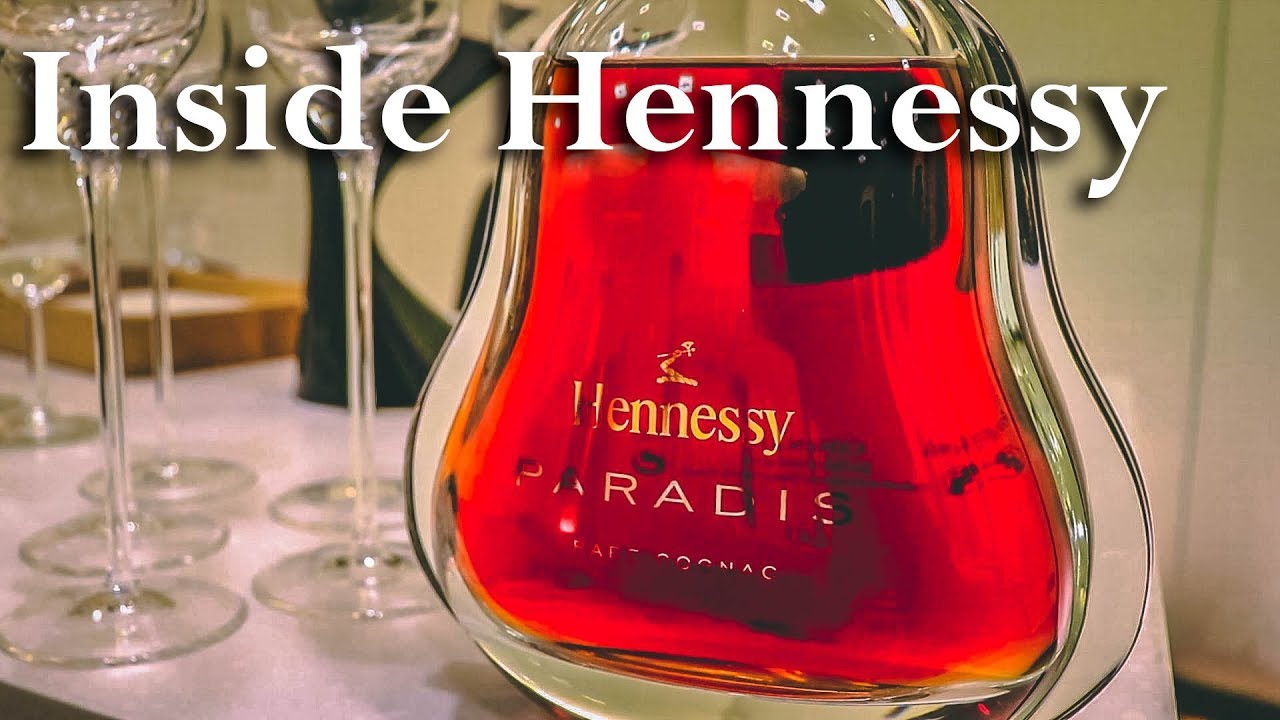 Much like Champagne has to come from the Champagne region of France to qualify for the prestigious name, such as it is with Cognac.
It's all about the grapes
To justifiably be called Cognac, the main ingredient, grapes, must be grown in the Charente region of the country known for its affinity with fine alcohols. The 'cru' or just 'superior vineyard', produces Ugni Blanc grapes, which in turn deliver a light, fruity white wine which is well-suited to distillation.
Fervent fermenting
After the grapes are pressed, yeast is added, converting the sugar to alcohol, resulting in around 7 or 8%. It's left to ferment for 2 to 3 weeks.
Twice as nice
Two distillations are what makes Cognac what it is. Without the mandatory second distillation, you'd simply be drinking a rather potent white wine.
While that's usually a welcome circumstance, the second distillation is what transforms the concoction into an 'Eau-de-vie' ('water of life' to those of us less linguistically inclined); a transparent liquid of around 70% alcohol.
Hennessy becomes international
30 years after that pivotal day in 1765, the first shipment of Hennessy barrels would arrive on the wild shorelines of Colonial America, and 10 years after that those barrels would turn to bottles.
Ever wondered what the V.S.O.P stands for? In 1817, King George IV of Great Britain requested a 'Very Superior Old Pale' Hennessy to be created. Modern-day advertisers might frown upon the heathen overuse of adjectives, but the lengthy title was shortened to a cozy acronym, and it's stuck ever since.
A mere year later Empress Maria Federovna of Russia requested 'a most exceptional Cognac' to be crafted for her son's birthday.
This trend continued, seeing bottles of the now world-famous Hennessy bejeweling the bar carts of countless notable people and those influenced by them.
Hennessy Cognac Range
Hennessy cognac comes in the following products according to the aging and blending processes:
How much is a bottle of Hennessy?
Hennessy bottle sizes and prices
| Bottle name | Size | Est. Price (USD) |
| --- | --- | --- |
| Hennessy V.S | 700 ml | $60 |
| Hennessy V.S.O.P | 700 ml | $85 |
| Hennessy X.O | 700 ml | $200 |
| Hennessy Paradis | 700 ml | $1100 |
| Hennessy Paradis Imperial | 700 ml | $2500 |
How to drink Hennessy Cognac
A prestigious spirit such as Hennessy deserves to be treated with respect.
Pour 25ml of your preferred Hennessy Cognac into a tulip glass. Roll the glass in the palm of your hand to coax the liquid slowly to body temperature.
This will elevate the rich aromas and draw out the flavors in a highly agreeable manner while looking pretty swish if we're being honest.
Ideally, warm it for 8 to 10 minutes before sipping. If you get bored (understandable) you're excused. But it is the best way.
5 fast facts about Hennessy
(1) HENNESSY IS MADE FROM WINE.
Cognac is a variety of brandy made from white wine, traditionally very dry and thin. The spirit is distilled twice and aged in French barrels, which impart flavor. "As far as Hennessy is concerned, we do everything possible to reflect the origin — the grape, the wine, the terroir, where it comes from," says Boissonnet. And like wine, the price can vary drastically. Bottles of Hennessy can run anywhere from $35 to $5,000. At Baku, a flight of three types of Hennessy costs $25.
(2) ALL COGNAC ADHERES TO STRICT RULES.
Similar to champagne, for a spirit to bear the name "Cognac," it must meet very specific legal requirements. These requirements include being produced in the wine-growing region surrounding Cognac, France, using specific grape varietals, is twice distilled in copper pot stills, and must be aged in French oak barrels for a minimum of two years (though most cognacs age much longer than the legal minimum).
(3) SIMPLE IS BEST WHEN DRINKING HENNESSY.
Bissonnet explained that in France, Cognac is enjoyed "very plain," simply sipped. A long drink, he said, does justice to Hennessy and cognac in general. His suggestion? Add some bubbles: "Doing it in a nice Burgundy glass with a solid ice cube and a dash of sparkling water, that's a way to enjoy it."
(4) HENNESSY'S RECIPES HAVE BEEN IN USE SINCE THE EARLY 1800S.
I tried three variations of Hennessy (VSOP, VS, and XO), and the earliest of the three was first produced in 1817. Hennessy VS was first imagined as a recipe in 1865 and XO in 1870. Though the core spirits of the brand obviously have staying power, Hennessy produces variations on the assemblage, such as Hennessy Paradis (believed to be the preferred drink of former North Korean leader Kim Jung-il), Paradis Imperial, and Hennessy Black. The brand also has different flavor profiles for its markets across the globe.
(5) LOOK FOR HENNESSY ■■■■■■■■■ MADE WITH FRESH GINGER.
Though it's best to drink it straight, ■■■■■■■■■ are still made with Hennessy. As far as trends go, Boissonnet pointed out that the bartending industry is cyclical; old trends tend to repeat after several years. Be on the lookout for ■■■■■■■■■ with fresh ginger: "A few years ago we talked about sazerac, and a few years ago we had a lot of mint juleps with Hennessy VSOP. Now we are into using fresh ginger."
Is Hennessy a whiskey?
Hennessy is categorically not a whiskey. Hennessy Cognac is made from grapes, not barley or wheat. Both spirits are distilled and aged in oak barrels, but the similarities end there.
Hennessy ■■■■■■■■ recipes:
Here are our top three favorite ■■■■■■■■■ to do with Hennessy Cognac.
The Old Fashioned
Ingredients:
■■■■■■■■ recipes: Add bitters into an Old Fashioned glass with a few ice cubes. Add the sugar syrup, then pour the Hennessy V.S.O.P in slowly. Garnish with orange zest.
Voila, an Old Fashioned mixologist would be proud of!
The Sidecar
Ingredients:
■■■■■■■■ recipes: Shake the Cognac, Cointreau, and lemon juice with ice in a ■■■■■■■■ shaker. Strain and serve in a classic ■■■■■■■■ glass. Garnish with orange or lemon.
French 75
Ingredients:
■■■■■■■■ recipes: Build directly into a chilled Champagne flute and garnish with a lemon twist.
Frequently Asked Questions
1- Is Hennessy a whiskey or a brandy?
Hennessy is 100% Cognac, which is a type of brandy. It is a strong spirit like whiskey, but it is firmly in the brandy category.
2- Why is Hennessy so expensive?
Cognac is typically more expensive than other spirits. The main reason is that the distillation process itself is more expensive. The spirit's base ingredient is grapes, rather than grains, and distilling wine from juice is also an expensive process.
3- How expensive is Hennessy?
Hennessy can range from less than $50, to over $2000, and in some cases far more than that. There are plenty of different types of Hennessy Cognac, so there's sure to be one to suit your budget.
4- Is Hennessy alcohol?
Yes, Hennessy is a strong alcoholic spirit with an ABV of 40%.
5- How much is the most expensive Hennessy?
The most expensive Hennessy is Hennessy Ellipse which can range from $12,000 to $14,000. It is limited edition and considered one of the most expensive Cognacs money can buy.
6- How to drink Hennessy?
Hennessy is best enjoyed neat, and at body temperature. However, it is a fantastic addition to many ■■■■■■■■ recipes. If neat is a little too much, adding soda water is acceptable as this combination helps to retain the intense flavors.
7- Is Hennessy supposed to taste bad?
From people who have actually drunk Hennessy at least once, or on a frequent routine, the most common term to describe its taste seems to be "Strong." The VSOP has a deeper and richer color with a good balance of Oaky and a traditional Grapy taste.
8- Which alcohol is similar to Hennessy?
Hennessy is a Cognac, which is basically French Brandy. Decent Cognac is expensive, but you can substitute American Brandy in most recipes with varying results. American Brandy is a lot cheaper than Cognac and is a pretty good value.
9- Does Cognac taste like bourbon?
Not really. Even though they are kept in oak barrels, cognac and bourbon are different in taste, so cognac is more like a brandy made from grapes, while bourbon is a whiskey made of rye, corn, and malted barley.
10- Why do rappers drink Hennessy?
Rappers drink Hennessy because all the rappers they look up to mention it in their songs and because it's a popular thing to mention as a rapper. They would call for a few other ■■■■■■ options before Hennessy. There is actually a deeper connection between the "Henny" brand and black people that rappers are unaware of.
Conclusion:
Hennessy is Cognac, which is a brandy made in Cognac, France. But the brand was created by an Irishman. Hennessy is made from grapes grown in the Charante region of France. With its chalky, stony soil and sunny temperate climate, the region is perfect for vine growing.
Related Articles
What Can You Mix Hennessy With
Types Of Hennessy
VSOP Brandy
Expensive Wine