How good is grapeseed oil for skin? Grapeseed oil is one of the most virtuous oils, known for its benefits on the skin and hair. Generally appreciated in the kitchen thanks to its rich nutritional value. Its very rich and complete composition gives it undeniable properties on the treatment of all types of skin and hair.
Properties of grapeseed oil

Obtained from the cold pressing of the seeds of the fruit, grape seed oil has a yellow/green colour, with a relatively discreet smell and a consistent texture. It is used in the treatment of skin and hair. Capable of easily penetrating the epidermis thanks to its texture, it produces no film or fatty residue.

It is an oil insoluble in water, but it can be perfectly combined with other oleifiers. It is a great source of antioxidants, whether in cooking or cosmetics. It is, moreover, rich in fatty acids such as omega-6 and omega-9.

Containing a fortune in vitamin E and polyphenols, it constitutes excellent care and protection for the skin. Finally, other active elements that make it up to give it many considerable advantages.
Grapeseed oil for the skin
Perfect for oily or combination skin
For combination skin or skin prone to oily, this oil provides deep nourishment and regulates the production of sebum in the epidermis.

It is therefore a powerful preventive treatment against the appearance of blackheads and skin inflammation.

Its texture facilitates gentle hydration, preventing the appearance of acne for oily skin, the consequence of an oily excess.

Very little comedogenic (its index is 1 in 5), it is finally reputed to have a cleansing effect. It is therefore ideal for formulating care for oily or problematic skin. Sebum regulator, it helps limit the appearance of impurities and other unsightly comedones .
Excellent for unclogging the skin of the body
Grape seed oil can also be used as a body scrub. It will allow cell renewal by removing dead skin from the skin surface.

It also makes the skin more radiant and supple by tightening the pores and getting rid of the toxins that clog them.
To do this, you will need half a glass of this oil and a tablespoon of salt or brown sugar. Mix everything together and moisten the skin before using the scrub. Once wet, apply the mixture all over the body and rub gently with a glove, insisting on the rough parts. Finish the scrub by rinsing your body with clean water.
Its anti-aging virtues
Rich in antioxidants, it helps fight against aging of the skin by limiting the effect of free radicals.

Its softening properties limit the appearance of wrinkles and the signs of aging visible on the skin.

Moreover, it stimulates the production of collagen and elastin** , allowing the skin to keep suppleness and firmness for longer.
Cell Regeneration
Boosting cell regeneration thanks to the omega 6 and 9 it contains, this oil also contributes to the good hydration of the epidermis by limiting water loss.

Emollient: nourishes the skin deeply and does not leave a greasy film, which makes it very pleasant to use.
Tips for using grape seed oil for skin properly
With a content of 90%, grape seed oil is very rich in unsaturated fatty acids, which allow particularly rapid absorption of the oil without leaving a sticky feeling. This makes it an oil particularly suitable for skin care. It is in particular for this property that it is one of the vegetable oils most used in cosmetic products. But grape seed oil is also used pure to take care of our skin and even our hair.
In body oil:
Grapeseed oil is ideal for body care - especially if you want to take care of your skin but need to be quick. Since it is quickly absorbed, you can slip into your clothes soon after application in the morning without having to worry about the annoying stains.
Against pimples:
Grapeseed oil is particularly light and well tolerated. Thanks to its anti-inflammatory properties, it is also suitable for the care of combination skin and prone to impurities.
In bath oil:
Pour 3 to 4 tablespoons of oil in your relaxing bath. The linoleic acid it contains improves the skin barrier so that the skin stores moisture better. The oil leaves a pleasantly light feeling on the skin after bathing.
How does grapeseed oil take care of skin?
Grapeseed oil is rich in linoleic acid and antioxidants, which makes it especially valuable for facials.
Grapeseed oil is extracted from the seeds of the grape. It is particularly found in health food stores and organic markets. Choose a cold pressed oil. It contains the highest possible proportion of important ingredients such as linoleic acid. Unsaturated fatty acids have beneficial properties for skin care.
Grape seed oil for the skin

Hydration: grape seed oil, rich in linoleic acid and antioxidants, is your skin's ally, whether it is to hydrate oily skin, nourish dry skin or even to regenerate mature skin. In addition, it penetrates quickly!

Against free radicals: grape seed oil also contains antioxidants effective against oxidative stress, including specific polyphenols. A study has shown that the antioxidant effect of these compounds is even stronger than that of vitamin C and vitamin E.
Grapeseed oil for face

Grapeseed oil illuminates all skin types: rich in linoleic acid, it helps dry skin to better store hydration. In addition, it is rich in antioxidants and thus acts against premature aging of the skin.
DIY recipes including grape seed oil for skin
1. Face scrub with grape seed oil for skin exfoliation:
Mix 3 tbsp. grape seed oil with 2 tbsp. of brown sugar. Apply the peel to the face in circular motions for about 5 minutes. Rinse off with lukewarm water. The sugar gently removes dead cells while the oil nourishes the skin.
2. Avocado hydrating mask:
Mix half an avocado and mix with 1 tbsp. grape seed oil and 1 tsp. honey. Apply the thickness of the back of a knife, leave to act for 15 min. and rinse well. Avocado hydrates and oil and honey have anti-inflammatory effects, ideal for skin with impurities.
Summary:
The plant of Grapeseed oil is an excellent antioxidant, particularly due to its high polyphenol content. It will thus capture the free radicals at the origin of the formation of wrinkles and skin aging.
Rich in linoleic acid, this oil will also promote skin regeneration.
Indeed, it is a dry oil and little comedogenic, it nourishes the skin and controls the production of sebum while limiting the appearance of pores. It thus helps prevent the appearance of blackheads and regulates acne-prone skin.
Grape seed oil for hair

Able to penetrate the hair fibre without difficulty and in-depth, grape seed oil adapts to all types of hair, from the driest to the oiliest. It facilitates good hydration and heals damaged parts very effectively. Besides, it helps nourish and naturally eliminate excess fat that binds to the scalp. It can limit the appearance of dandruff.

This magic oil will restore more shine, suppleness and hydration to your hair. Applied daily to frizzy or curly hair, it helps keep them in good health.

To benefit from its benefits, just apply a few millilitres to the hair. It is also possible to use it in an oil bath, as a mask or as a shampoo. The results can also be optimized if you combine it with other vegetable oils or other natural products such as green clay, as a hair mask.
How to use it for Hair?

Recommended for the care of fine, dry and damaged hair, grape seed oil maintains and nourishes the hair fiber to the ends. The ideal is to integrate it into hair masks, oil baths, nourishing balms or even homemade shampoos.

Thanks to its light consistency, it can also be used for hair care. 1-2 drops for short, thin hair or 3-4 drops for thick and long hair protect damaged ends against split ends for a healthy shine without weighing them down.
Recipe with grape seed oil for hair

Nourishing hair balm:

2 tbsp. grape seed oil

1 tsp mango butter melted in a mild double boiler

10 drops of ylang ylang essential oil
Direction of Usage: Apply it all to dry hair and all over the hair. Leave on for 30 minutes to 2 hours under a hot towel, rinse and then wash your hair with a mild shampoo.
Summary:
Grapeseed oil will deeply nourish the hair fiber to repair, maintain and strengthen it. It will thus soften, strengthen and make the hair more resistant to external aggressions. When applied over the lengths, it will cover the hair fiber to give it more volume.
Nutritional benefits of grapeseed oil
Grape seed oil is one of the richest oils in omega 6, it is also rich in vitamin E, polyphenols and lecithins. It therefore has strong nutritional qualities and in particular for preventing certain cardiovascular pathologies. To limit excess cholesterol, it is important to favor unsaturated fatty acids in your diet. The latter and in particular polyunsaturated fatty acids, such as linoleic acid, will thus make it possible to reduce the level of LDL cholesterol in the blood.
Directions for use:
When ingested, take 2 to 4 teaspoons per day of grape seed oil. It can be included in your dishes, in particular as a seasoning.
Other suitable vegetable oils:
Hemp, Perilla or Flax, are also interesting oils for their nutritional benefits.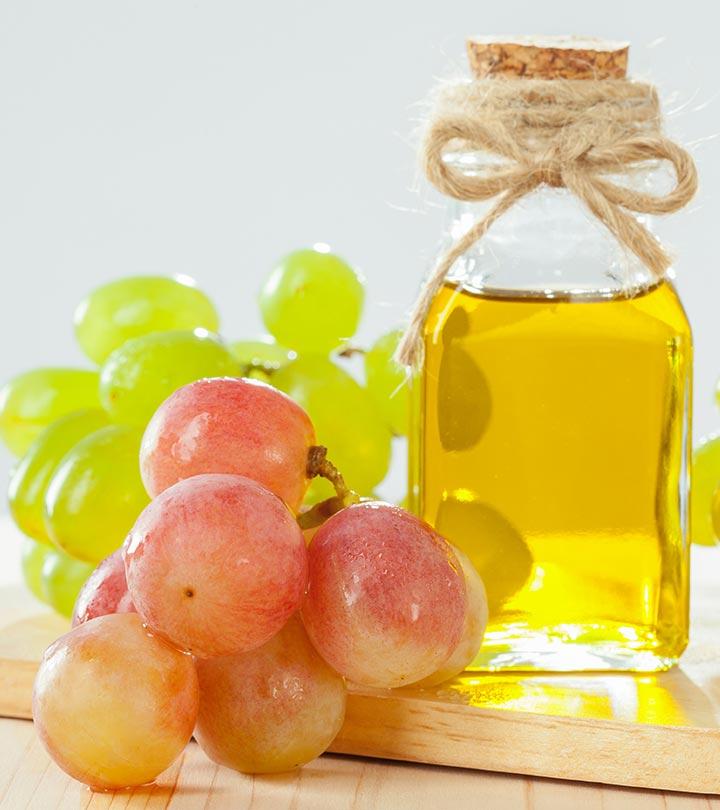 Frequently Asked Questions (FAQs)
How do you know if a cosmetic contains grape seed oil?
To find out if a cosmetic contains grape seed oil, just look at the list of its ingredients. The scientific name for grape seed oil is vitis vinifera (grape) seed oil.
Can grapeseed oil be used in cooking?
You can use grape seed oil as an ingredient to season your salads, your raw vegetables. Grapeseed oil is also used in the composition of a vinaigrette or a homemade mayonnaise. Grapeseed oil is resistant to temperature rise without denaturing.
How to make grapeseed oil?
It takes about 50 kg of seeds to produce 1 liter of oil, which represents 500 kg of grapes for 1 liter of oil.
Is there any other suitable oil for good skin?
Grape seed oil is useful in the care of mature skin. Other oils, such as Rosehip oil, are also very effective in maintaining good skin elasticity and cell regeneration.
Conclusion:
Grapeseed oil is anti-oxidant , that is to say it prevents skin aging. It also has nutritional functions: it is emollient. It is an oil that also helps regulate sebum , making it a cleansing oil. Finally, it is presented as a dry oil which therefore penetrates the skin easily.
Grapeseed oil is therefore suitable for mature and damaged skin but also for oily and combination skin.
It can also be used in massage.

Read Also:
Olive Oil For Skin
Mustard oil for hair
7 Surprising Blueberry Benefits for Your Skin