Going blonde is all about choosing the right shade, which complements your complexion and blends with your roots.
Hair transformations are not just for a physical change. It's a state of mind, it's meaningful and it reflects the personality of a person. I've been researching and observing the concepts of hair color and its relationship with one's persona. For me as a natural brunette, it's always been a hard decision when it comes to going a shade lighter. Blonde is not just one color, it has a variety of shades and options. So if you're aiming for Regina George's look then you need a vibe like hers. If you're looking for an icy look like Draco Malfoy's (character in a famous series Harry Potter) then you need to know if you can be a Slytherin. Of course, you can be anything but these examples are just to let you know that there should be a connection between you and your hair.
This way you'll know your hair color is versatile. The information below will help you to find out how?
Undertone is the key
There are three types of skin tones.
Warm

Cool

Neutral
1. Warm skin tones These tones have golden, yellow, and peach undertones and also olive shade too.
2. Cool skin tone These tones have blue or pink undertones.
3. Neutral skin tone These types of tones have a mix of both undertones. People with this undertone have a lot of options clearly.
After figuring out what undertone you have, it's now easier for you to decide what shade of blonde you should go with.
People with warm tones naturally have dark hair. That doesn't mean a lighter shade will not complement their skin. Whereas people with cool undertones have light-colored hair. But if we say it's best to stay this way will be counted as stereotype thinking. So ladies don't be disheartened, we have all the options to ourselves and so many colors to try.
Shades of Blonde
When you have decided to go blonde, there is one thing to keep in mind, that is which shade compliments you the most. It depends on how far you can go for a change. There is no right or wrong in this. It's all about how you feel with your new blonde hair.
1. Warm Highlights
When choosing a shade, we suggest you think of the volume of work and investments you're ready to fix into the process before narrowing your selections. Those seeking a cheap-maintenance blonde can choose beachy highlights or warm shades.
2. Face Framed Blonde
When picking a shade, think of your original color. "If your original color is dark or light blonde, you will be able to obtain a complete bright blonde color. "If your hair is dark brown to black, it will be best to have dimension by coloring radiant pieces completely till ends and around the face. It's most satisfying to keep your original base color at the roots to anticipate a sharp line of distinction as it arises out.
3. Icy Blonde
Going icy blonde is for those who have bigger eyes that frame the whole face, this icy blonde shade will also give you an effortless look for people with cool skin tones as it blends with the skin color and gives an aesthetic look. Emma chamberlain, a well-known influencer among the youth decided to go blonde and the fans loved it as it matches her persona… she carries it well because of her unique look and a style that makes her light blonde hair looks versatile.
4. Ash Blonde Balayage
Viewing the balayage technique, which is coated in color, v/s foiling needs actively parting off the hair and placing color strategically. This method is love, especially with an ashy tone. Just be sure to be clear with your color artist about every earlier dye job. Every little detail is important to share about treatments you got for your hair so your color artist use products on you accordingly. This will protect your hair from damage and over-drying.
5. Blonde Highlights and Low lights
Having single-colored hair can be too monochromatic for people who crave more dimensions. Make it like Emily Ratajkowski mix in highlights and lowlights for natural-looks.
6. Brunette gone wild
If you are going brunette to blonde then those who are natural brunettes should consider the copper shaded blonde or dirty blonde. These shades will hug their personality without making them feel like not themselves. The dirty blonde looks best with beach waves and tanned skin with any eye color, so it's a win-win for those who wanted a change but low-key didn't want a washed-up look. I've always wanted a glow-up and make a dramatic entrance with a spotlight on me and Bebe rexha playing in the background, yup that can happen just by going the 50th shade of blonde on a couple of strands of hair as known as soft ombre. For me, this color was a lifesaver because it didn't change the color of my roots, but gave my hair a new life by giving a whole somber makeover to lower parts of my hair… and there you go, you're the spotlight now.
7. Blonde Root Melt
A root melt method is a way to try a lighter shade. Your root color apparently blends into the lighter tone, so when you get your blonde, it looks natural and merged.
8. Muted Blonde
If you are not a bright blonde person you should go for a subtle muted tone. The gentle transformation from cool to slight strawberry hue in the ends is love to have.
9. Mixed Tones
Cool or warm tones are not the only choice you have, you can have the blend of both of them by having warm on the top of the hair and cool at the ends.
10. Platinium Blonde
Platinum blonde is a signature color in itself. But this is a kind of bright blonde color that requires extra maintenance, so make sure you ask your color artist how to take care of it between sessions.
11. Bronde hair
Bronde hair is cool-shade of dark blonde this look is the absolute solution if you are keen to have natural blonde color. pop ups of bright highlights are simply love.
Heating and styling tools can wait
It's very important to know that after you change your hair color you need to cut down on the use of styling tools because bleach can make your hair brittle for a while. There's nothing to worry about as
long as you take care of it by using good hair masks and oils to prevent your hair from breaking and damaging.
Safety first
The health of your hair is very important before you decide to go all merciless on your hair. If you have recently had any hair job that involved a lot of chemicals and heating tools, you might want a delay your plan to go blonde. As it will severely damage your hair as it involves bleaching. So before changing your hair color, make sure your hair is healthy and in good shape for a drastic change.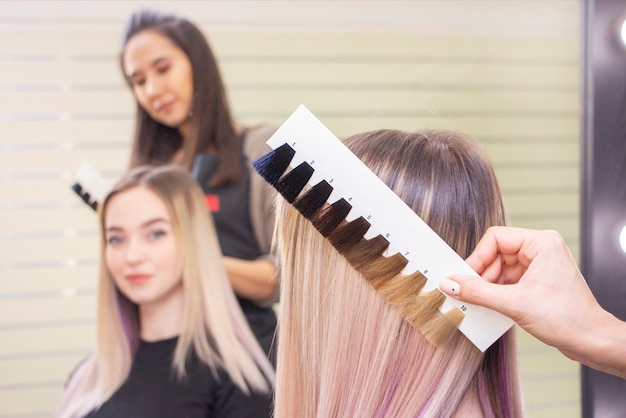 Frequently Asked Questions
1. How bad is going blonde for your hair?
Going blond entirely can damage your natural hair in a huge manner, specially if you are going from dark brown to light blonde, lightning process contains bleach and ammonia in it which increases the risk of damage, breakage and split ends.
2. How do I know if I will look good as a blonde?
If you have decided to go blonde, then before choosing the shade you should keep the color of your skin and eyes in mind. If you have fair skin and green or blue eyes, blonde color will look like made for you only, on the other hand if you have yellowish skin tone then blonde will turn you to look like a jaundice patient, blonde is surely not for you.
3. Can you go from highlights to all over blonde?
Yes you can go all over blonde from highlights all you have to do is do your natural root color a couple shades lighter. Use foil to blend. Do it for couple of times. Ask your stylist for how to maintain overall blonde color.
Conclusion
When you say I am going blonde, typically a light golden color tone comes in every one,s mind but it is not justified with blonde shade because it has more then 40 tones in itself. If you have decided to go blonde, then keep in mind that all which matters is your skin tone and eye color, if you have selected the correct shade regarding your skin and eye color then blonde can be the shade of heaven for you, you can literally look like an angle with it, but if you are choosing a in correct shade for yourself it can be a worst decision. Second thing which you have to keep in mind is to take a look on the health of your hair if your hair are too much weak then don't go for it because blonde contains light shades in it which are not possible to achieve without harsh chemicals that can weaken your hair more.