Is New Year Eve is a Holiday? No, New Year Eve is not a federal holiday in most of the United States. New Year's Eve falls on the last day of the year which is December 31. New Year's Eve is to celebrate the ending year and to welcome the New Year.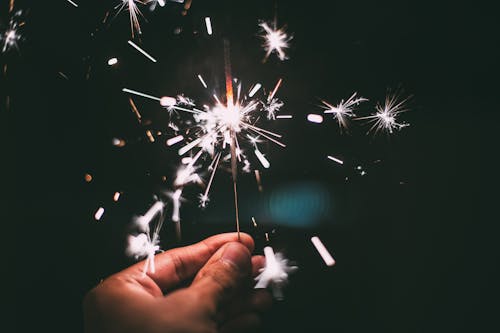 NEW YEAR'S EVE
New Year's Eve is also known as Old Year's Day or Saint Sylvester's Day. Most of the countries, which use Gregorian calendar, celebrate New Year's Eve on December 31. But, still there are some countries which follow Julian calendar; they celebrate New Year's Eve on January 13. This evening is celebrated as a big festival among Christian Unity. Most of the Western countries, which have majority of Christian popularity, celebrate New Year's Eve and New Year's Day with full of fun and joy, but nowadays, it is also celebrated with full enthusiasm in Eastern countries. They celebrate the evening with friends and family, at parties, concerts or at homes. The celebrations generally continue till past midnight of New Year's Day – 1st of January. New Year's Eve is traditionally celebrated with firework displays across the whole world at 00:00 in the local time zones.
Let's first talk about the Gregorian and Julian calendars.
GREGORIAN AND JULIAN CALENDAR
In AUC 708 (46 BC), The Julian calendar was proposed by Julius Caesar. The calendar was the reform of Roman calendar. It was the predominant calendar in the Roman world and most of Europe for more than 1,600 years. The Julian calendar is still used in some parts of the Eastern Orthodox Church – the second largest Christian Church – and in parts of Oriental Orthodoxy as well as by the Berbers. The Julian calendar has two types of year; a leap year having 366 days which come after every 3 normal year which consist of 365 days, this gives an average year that is 365.25 days long.
Julian calendar, in 1582, was modified by Pope Gregory XIII and was named as Gregorian calendar. This calendar reduces the average year from 365.25 days to 365.2425 days. Now, Gregorian calendar is used in most of the world. Both are the solar calendars, having 12 months of 28-31 days each. Both contain a normal year with 365 days and a leap year with 366 days, a leap day added to February. The only difference in Gregorian calendar is that there is one day less in the leap month (February) every four hundred years. Calendar cycles repeat completely every 400 years that equals to 146,097 days.
NEW YEAR'S EVE HISTORY
Alike other festivals or celebrations, New Year's Eve also has its ancient roots. Christians celebrate the day in the memory of their God Jesus Christ and in the remembrance of the Solemnity of Mary, the Mother of God.
According to some reports based on ancient histories, the earliest recorded New Year's Eve celebration is thought to be in Mesopotamia, around 2000 B.C. The New Year was not always celebrated on 1st of January, in the ancient era, New Year was celebrated on the mid of March, as March was considered as the first month of the year. This celebration was known as "Akitu", this celebration continues till 11 days. The Ancient Roman calendar was used at that time, which followed the lunar cycle. The early Mesopotamian people performed rituals, celebrated the religious victory of the sky god Marduk over the sea goddess Tiamat and either crowned a new king or allowed their old king to continue his rule. Different rituals and norms were performed each of its days. Later, Sosigenes, an astronomer, convinced Julius Caesar to follow the solar year, instead of lunar eclipse. Then, from 46 B.C., the New Year started in January. Starting the New Year in January was partially done to honor their God Janus; the January was named after Him.
NEW YEAR'S EVE SONGS
New Year's Eve party is full of enjoyment, strong drinks, great friends, delicious desserts and most importantly, songs and music.
Add these some amazing New Year's Eve songs to your playlist and play them at your party and enjoy the songs till the clock strikes at 00:00:00, the first day of New Year.
"Auld Lang Syne", this song is the classic tradition, which was written by Scottish poet Robert Burns in 1788. These words mean "times gone by".

"Let's Start The New Year Right" — Bing Crosby.

"What Are You Doing New Year's Eve?" — Rod Stuart feat. Ella Fitzgerald & Chris Botti, the song recorded in 1947.

"Thank U, Next" – Ariana Grande

"New Year's Resolution" — Otis Redding

"Funky New Year" — The Eagles, the Eagles sang the song for 1978, Christmas album.

"Countdown" – Beyoncé

"Bringing In A Brand New Year" – Charles Brown.

"New Year's Eve 1999" — Alabama

"Blinding Lights" – The Weeknd

"Happy" – Pharrell Williams

"What Are You Doing New Year's Eve" — Diana Krallar's

"New Year's Eve" – Snoop Dogg ft. Marty James

"Old Town Road" – Lil Nas X ft. Billy Ray Cyrus

"1999" – Prince.

"This Will Be Our Year" — The Zombies (1968), this '60s tune hits the same sweet note in 2020 as it did back then.

"Midnight Sky" – Miley Cyrus

"New Year's Prayer" — Jeff Buckley

"On the Floor" – Jennifer Lopez feat. Pitbull

"Bye, Bye, Bye," – NSYNC
SUMMARY: New Year's Eve is celebrated to farewell the previous year and to welcome the upcoming year, on December 31st. New Year's Eve has its ancient roots. People enjoy the evening with listening to the songs and music.
IS NEW YEAR'S EVE A HOLIDAY?
The answer to this question depends on where you live. Generally, New Year's Eve is not a federal holiday in most of the world. But yes, New Year's Day is a federal holiday. December 31, New Year's Eve falls in the holiday season for students, as schools, colleges and other institutes are closed at that time. Some organizations are also closed; some are opened, but only for limited hours. Many businesses also have the special operating hours for New Year's Eve, it majorly depends on the boss of that place, if he is generous, then your work might be closed early. Many restaurants, theaters, bars, clubs and other entertainment venues run special events or programs and have different timing for that day. At some places, New Year's Eve is a public holiday, while at other areas, the day goes like the other normal days, with tough routine. It does not matter, that New Year's Eve is a holiday or not, because a big unity enjoy the evening together and with full passion.
CELEBRATIONS OF NEW YEAR'S EVE
In most of the cities, public events are held on large scale, and a big crowd is the part of such events. New Year's Eve is full of traditions and rituals or norms, every culture, every country celebrate the evening in its own way. One of these celebrations includes the ball drop in Times Square, in Manhattan, New York. Around 1 million people gather to watch this special moment at midnight on December 31st. this huge ball is made of electric lights and crystals and is placed on the top of 23 meters pole. At 11:59 P.M of December 31st, ball comes down slowly and it comes to rest at the bottom of the pole at exactly 00:00:00. The event is televised and shown on TV across United States and all around the world. First time the ball was dropped in 1892 in Portsmouth, England and in Times Square, the event started in 1907. Other than this, New Year's resolutions are made at the evening of last day of the year. Religiously, this trend was originated when Romans made promises from their God Jenus at the New Year's Eve, and when Babylonians, an ancient Akkadian-speaking state, began their year by promising their God that they would return borrowed objects and pay their debts. One tradition includes, Buddhist temples ring their bells 108 times to enter in the New Year and drive away the 108 evil desires that humans fall prey to.
Apart from all these traditions, many people celebrate the evening at parties, bars, clubs or theaters, watching programs, they buy ticket a week before and enjoy the evening there. Concerts are also held at large grounds having thousands of people. They pop out the champagne cork when the clock shoes the 00:00:00 time, people exchange hugs, kisses and wish Happy New Year to their loved ones. Most popular way to welcome the New Year is with firework display. The sky covered by impressive firework display. People dress their best outfit, meet up with their family and friends, go to movies, take a road trip or evening parties. Some go for dinner. In short, people have their own way to celebrate the evening.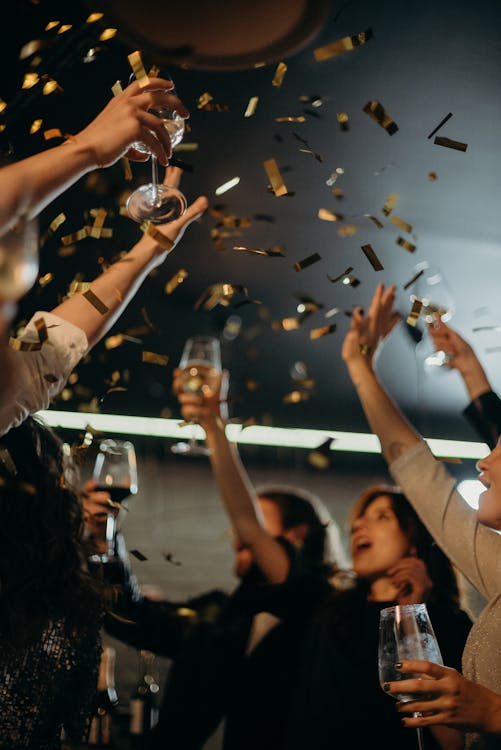 NEW YEAR'S RESOLUTIONS
New Year's resolution is also considered as a tradition. Resolution is actually the firm decision or a promise, person do to himself. He promised himself to achieve a goal which will be better for him or for his family, he promised to change his undesired behavior, to be a better person, or to do something new. This concept was laid down for the sake of self-improvement or self-help. Christians pray and make resolutions in the end of previous year and begin a new one with more health, joy and happiness. Some of the common New Year's resolutions are:
Learn a new skill, language or hobby.

Make a good routine, watch less TV, take a quality sleep of 8 hours at night.

Do exercise, try to stay fit and lose extra weight.

Try something new every month.

Quit smoking and drinking.

Start reading a new book.

Stop procrastination, and be punctual.

Build a better budget, save and earn more money.

Start being more responsible.

Start eating healthy food and avoid junk foods.

Walk a mile a day.

Start doing yoga and meditation every morning.

Become more organized.

Face your fears and insecurities.

Set a goal that motivates you.
FREQUENTLY ASKED QUESTIONS (FAQs)
Which country gets new year first?
It is first celebrated on the Pacific island nations of Tonga, Samoa, and Kiribati. Then in New Zealand, followed by Australia, Japan follows next in celebrating the New Year, then South Korea. The last place to celebrate New Year is Bakers Island which lies in central Pacific Ocean.
How long do New Year's resolutions last?
On average, 80% of the New Year's resolutions are failed by the end of February. Different new habits are hard to get started and even harder to keep.
CONCLUTION
Is New Year's Eve a holiday? At some places, New Year's Eve is not a federal holiday, but at some places it is considered as a holiday. Some organizations, businesses limit their timing and give half day off to their workers to enjoy the last evening of the year.
RELATED ARTICLES
What is Christmas?
Wine Country Gift Baskets
Which Holy Days of Obligation in the Catholic Church