Daughter of Loki: Hela, Goddess of Death, is the daughter of Loki. She was borne with Loki, the god of a trickster, and Angerboda, a Giantess from Jotunheimen. Hela is a two-faced girl because of her parents' hybrid complication.
How is Hela Daughter of Loki?
Daughter of Loki is Hel, mentioned in Old Norse myth, which means the world of the deceased. Later, it came to know the Goddess of Death. Hela is the ruler of hell, one of nine realms underworld, called Niflheim where she received the deceased.
Her appearance is quite different from other Aesir. Her half face is as beautiful as that of her father and half of her face is ugly like that of her mother. For this reason, Odin gives her name Goddess of the afterlife and sends her to Niflheim, and hands over her the authority of hell.
That's where she had to administer board and arranged the residences for those, who die of sickness or old age. Aesir believed that those who fell on the battlefield would not go to Hel rather to god Odin's Valhalla.
In Norse Myth
In Norse myth, Hela is the daughter of Loki because she is fated to be born to Loki, the god of mischief, and Angerboda, a giantess from Jotunheimen. If so, Hela is the daughter of Loki without entering into an argument.
In Marvel Cinematic Universe
But MCU (Marvel Cinematic Universe) represented Hela as the firstborn of Odin's kids. As in Thor: Ragnarok, Odin tells Thor about Hela "goddess of death, my firstborn, your sister". This phrase indicates that Hela is Thor's sister and Loki's adoptive sister in the movies.
Is Hela the daughter of Odin or Loki?
The filmmaker picturized her in the film Thor: Ragnarok, as the daughter of Odin instead of Loki's. They have some liberty to change the characters as they want.
Keeping in mind the Norse mythology of comics prophecy, Hela would be born to Loki and Angerboda. It's clear that Hel is the Daughter of Loki, granddaughter of Odin, and the niece of Thor.
Summary

As per the Norse myth, Hela would be born to Loki and Angerboda so it is clear; daughter of Loki is Hela, goddess of death. But, the moviemakers have represented Hela as the daughter of Odin in the film.
Who is Loki MCU & Norse Myth?
The family relationship of Loki is pretty complicated. He is Odin's adoptive son, raised along with Thor is a half-brother in MCU. But he is Odin's brother in Norse myth. He has three children with the giantess Angrboda; Fenrir, Jormungandr, and Hel.
To dive into more depth, first of all, we get to know who Loki is.
Loki is, the God of Mischief and Lies, Laufey's son, but brought up by Odin, the god of all, also called the father of gods. Loki's father was the king of the Frost Giant, wanted to make him heir to the Jotunheim throne but he abandoned him. Odin adopted him and raised him with his son, Thor, as the second prince of Asgard in MCU.
In Norse belief, Loki is a son of the giant, Farbauti, one of the Aesir. Loki was as compared to the great gods, such as Thor and Odin. Using his tricky plans, he helped the Aesir, and sometimes he caused trouble for them and himself too. That was Loki who caused the death of god Baldur.
In the myth, Loki has four children: three sons and one daughter. Fenrir, a wolf, Jormungand, a giant snake, and Hel, two-faced terror, are all from his wife named Angrboda.
Also, his fourth child Sleipnir, an eight-legged horse, whom he mothered, changed his gender, and became a female horse, had the child with a full horse named Svadilfari. While in MCU he fathered eight children.
In Norse myth, Loki is described somewhat as a helping god to the gods, and his role is ended up involving the death of Baldur (the son of Odin). This is the worst crime all of his crimes to get Baldur killed by his blind brother, Hoor, giving a spear to him. He inadvertently used Hoor to kill his brother. For the punishment of this crime, he was forced to lay lied under a snake trickling venom on him.
Loki's death
In MCU, Loki has to die three times – firstly when he fell from the Bifrost into the Void, and he survived without a mark then he was found by Thanos – secondly, he was stabbed in the abdomen with a cursed sword during the war against the Dark Elves and he again survived there. And finally, he was choked by Thanos and died in Infinity War.
Here is a video to get to know more about MCU and the Norse myth.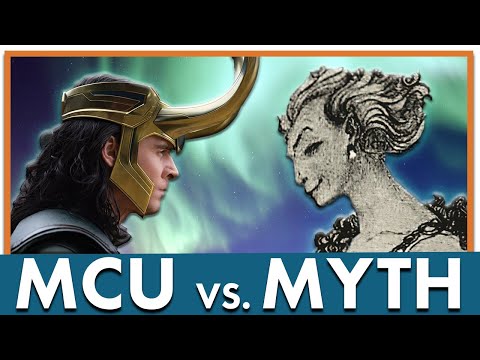 Summary

Be Loki Laufey's son- or Odin's son. Loki is a god but a bad one, a shape-shifter, master of magic, involved in many crimes, determined to get the thrown of Asgardian, and father of different creatures and animals.
Loki's Children in Norse Myth
Loki's children in Norse myth are confirmed three children with Angraboda and it is also believed Sleipnir is the third son with Svadilfari.
But in Marvel comics, He fathered more children – although we don't know more about them, that's what we'll just mention their name, not to describe in detail. Loki's three sons are — son of Satan, Vali Halfling, Narvi, and one daughter Tess Black as to Marvel comics.
Let's get to know more about his confirmed children in Norse myth.
Fenrir the wolf
Summary

Fenrir the wolf is the son of Loki and Angraboda — fated to kill Odin and he would be killed by Odin's son, living with his siblings with their mother in Jotunheim, the land of the Frost Giants. Odin kidnapped them and took them to Asgard — chained him to a large stone until the day of Ragnarok.
Jormungandr the World Serpent
Summary

Jormungandr, the Midgard serpent, is the second son of Loki…destined to kill Thor and was killed by Thor. While bringing them to Asgard, Odin hurled him into the great sea — getting bigger and bigger with the period of time, stayed there till the final day of battle.
Hela the Queen of Death
Summary

Hela, the goddess of death, the only daughter of Loki; having a two-faced appearance with the bones on one half of her body entirely exposed and another side of her face like that of her father.

She governed over the realm of Niflheim, one of the Nine Realms, where only those who died with disease and old aged. She is the major cause of the destruction of Asgardian.
Sleipnir eight-legged Horse
Summary

The fourth child is Sleipnir, an eight-legged horse, whom Loki gave birth changing himself into a female horse — belonging to Odin the god of all. He is Odin's faithful horse; he rides on him to visit anywhere. He died in the final war with Odin.
If you are yet to understand Loki's complicated family relationship, we've tried to strike a balance between the Norse myth and MCU to make you understand Loki's family accurately.
Here is the table of Loki's family.
| Loki's Family Tree in Norse Myth | Loki's Family Tree in MCU |
| --- | --- |
| Loki's father, Farbauti | Loki's biological father, Laufey |
| Loki's mother, Laufey | Loki's mother never shown & mentioned |
| Loki's blood bound brother, Odin | Loki's adoptive father, Odin |
| Loki's mate, Angerboda | Adoptive Mother, Frigy |
| Loki's children with her - as a father | Adoptive sister, Hela |
| Hela, Fenrir & Jormungandr | Adoptive brother, Thor |
| Loki's fourth child with Svadilfari - as a horse female | Loki's wife, Sigyn |
| Sleipnir | Loki's children: three sons & one daughter |
| | Son of Satan, Vali, Narvi, &Tess Black |
Frequently Asked Questions
People also ask some questions related to Daughter of Loki and we discussed them as below.
1. Is Hela Loki's daughter or sister?
In comics' books mythology, Hela is the daughter of Loki. Gylfaginning of the Prose Edda describes Loki's three children with Angrbada. So Hela is his daughter, not sister as per the mythology.
2. Is Hela Thor's sister?
The earlier versions of comic books referred to Hela, the Goddess of Death, as Loki's daughter. But, in Thor: Ragnarok, Hela is the daughter of Odin, the older sister of Thor, and the adopted sister of Loki.
3. Is Freya Hela's mother?
Freya is one of the Asgardian goddesses in the Norse myth. She is a supporting character of Thor in the film — but Hela's mother's identity isn't shown in the film. It reveals that Freya is not Hela's mother.
4. Who's stronger Hela and Thor?
Hela defeated Thor many times and even enslaved him. There is no doubt that Hela is stronger than Thor. Since she has a range and unbelievable healing factors and stability.
5. Who kills Hela in comics?
Odin killed Hela for the sake of Thor's life but afterward, he resurrected her back to life. It was Surtur who destroyed Asgard and finally kills Hela.
6. Who killed Loki's children?
Aesir gods wanted to punish Loki for the reason of Baldur's death. They were looking for a way to kill Loki's children. They decided to use Vali to make the wolf enrage so that he would do nothing but kill Narfi.
7. Who killed Loki?
In Avengers: Infinity War, Thanos attacked the surviving Aesir in space and he chokes Loki to death after an attempted double-cross.
8. Why did Odin adopt Loki as his son?
Loki was a son of Farbauti (a jotunn), so Odin adopted him as his son to have a hope that one day Loki would become king of Jotunheim.
9. What are the characteristics of Loki in Marvel comics?
Apparently, Loki is such a dangerous god of mischief in both the comics and the MCU but he has some special qualities and characteristics which we can't deny. He has superhuman strength, a tremendously brilliant man, cunning, master of magic, durability, gifted, unpredictable, shapeshifting, speed, and tricky.
10. Is Loki Odin's son in Norse belief?
No, Loki is described as the blood-bond brother in Norse myth but in Marvel comics, he is represented as the adopted son of Odin.
Conclusion

Daughter of Loki Hela's appearance is different from other gods of Asgardian. She is a Two-faced terror because of her parents' hybrid complication. Her half-face looks like that of her father beautiful and half like that of her mother ugly. She is Loki's daughter as to Norse belief.

In Norse Myth, Loki fathers three children: Fenrir, Jormungandr— daughter of Loki is Hela; he is also the mother of Sleipnir horse.

His three children were living with their mother Angraboda in Jotunheim, the land of the Frost Giants. But when the Aesir got a prophecy about Loki's children would cause for trouble the all gods in Asgardian. Odin ordered to bring them to Asgard.

Odin throws Jormungandr into the sea and he grows in a very large size even he is able to encircle the Midgard. Odin takes Hela and Fenrir to Asgard. They chain Fenrir the wolf to the stone and drops Hela into Hel under the world.

Although they were living with their mother without disturbance, the gods of Asgard destroyed their peace. Their misbehaver causes the destruction of all the gods and even Loki's kids.
Related Articles