Tape in hair extensions are the extensions, that stick to the hair immediately according to need. These hair extensions are temporary in nature and are easy to use. Normally they come in straight position but you can make curls on them, and they are 100% human hair in nature. If you treat it well you can increase the life of extensions.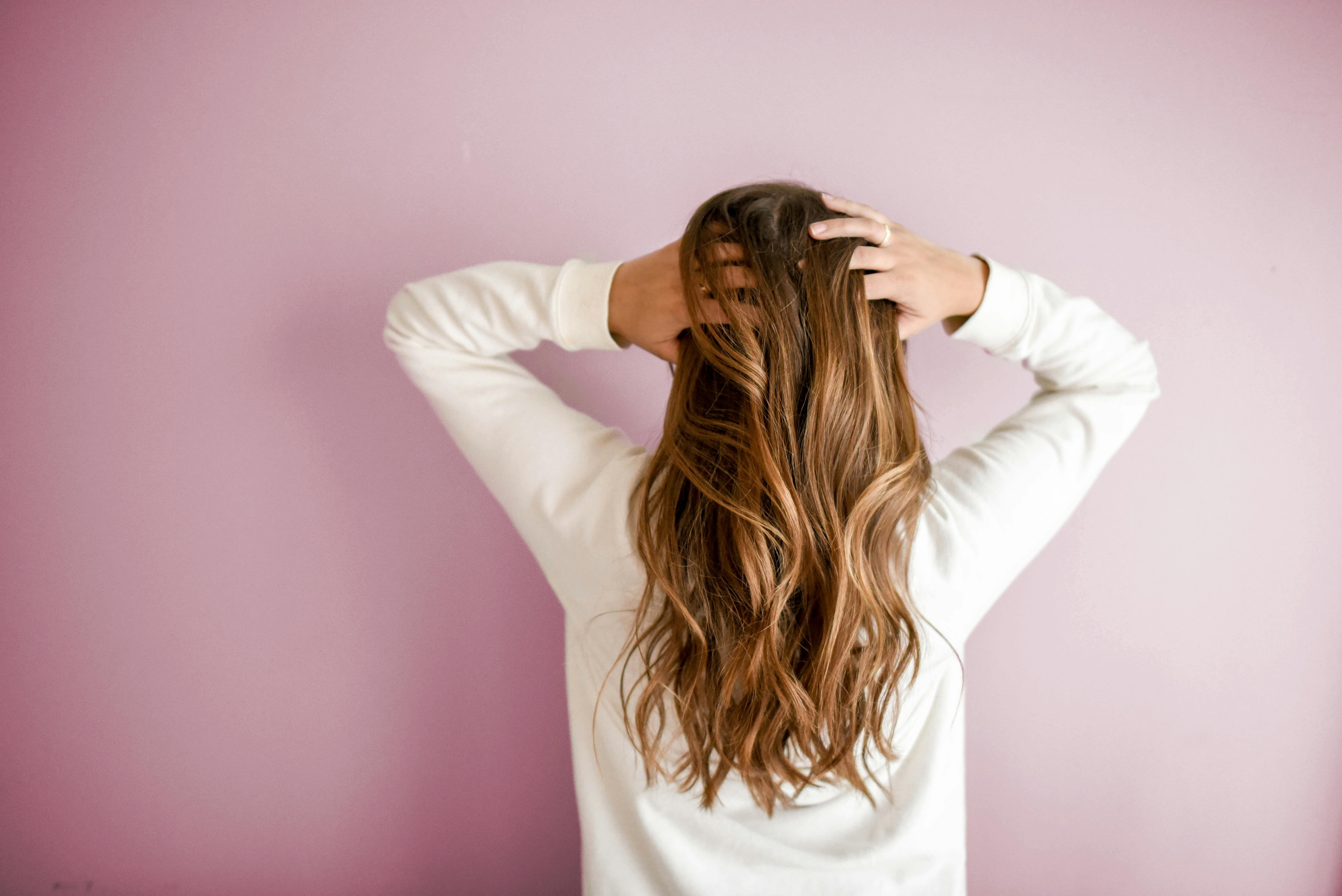 Extensions are best for those who have thin hair with less volume, or they have short hair and want to carry long hair, they are best for function, wedding, and shoots.
Media industry involves so much shoots,make overs,hair styles.Daily heat treatment on hair cause damage of hair,dull and non vivid hairs.Then the use of extensions make this easy to do styling and hair colors without damaging them and your natural beauty restored.
How many tape in hair extensions are enough for normal length hairs.
…???
If you have short hairs and you want to make them long by hair extensions ,you will need 60 to 80 extensions to cover the whole curvature.
But if your hair have volume then 40 extensions are enough.
How long does the hair extensions last…??
After using them once if you treat them well and take care of them like natural hairs,you can expand the life of these extensions.normally they last 6 to 8 weeks, however you can increase their life to 10 weeks on the case of routine using.
What things are needed to keep extensions fresh???
Like Normal hairs extension care products are easily available like shampoo, conditioner, extension brush and detangling spray that keeps hair tangled free if these look is rough after using.And this detangling spray is so effective that it keeps your extension straight with less effort.
Cost of tape in hair extensions
Many online extension stores and beauty company sold them on their studios,and normally they are available as a package on saloon for example a normal american salon charges $900 for extensions and their setting through proper expert.
But if you are interested to purchase and use them individually then they are available on different cost, length, quality,and lasting period.they also available on different colors.teens like to use colorful vivid hair extensions but young ones or blonde choice them according to their hair color.
These look really fine on the highlighted hairs and can easily mix while applying them.
How to apply these hair extensions???
This is quite an easy step which you can easily do at home.you need some things while applying it.
Extension brush
Hair clips
Extensions
Straightener
For application of these extensions , simply peel off the sticker.
Make section of the hairs horizontally and verticaly.the are above mech make a thin horizontal section and apply the extension after peeling off it will stick to the hairs then press it slightly so it may grip the hairs and stuff on moving the hairs.
Now cover whole horizontal section with extensions, normally it woul take three extensions to cover the area but if half of your extension is extra ,you will easily cut this according to your requirements and then cover this extension hair from the natural hair.
After that take one more horizontal section above the section where we applied the tape in extensions.then again apply three to four extensions and make them firm and cover them with natural hairs.
After that now from above hairs make two vertical sections,and start applying extensions from one inch above the ear and firm then and slightly move to the mid of hair.
On the peak of head try to apply three to four extra extensions ,it will give a volume look to your hairs.if you will follow the curvature,youe extensions would be perfect and wouldn't damage your hair and you will not feeling of heavy head.
How to mix the natural and extension hair combine???
This is a very important step in which we will combine the hairs in such a way that they both mix and give natural look.simply straight the hairs and slightly curl their tips to inward direction,then it will look natural.
How to brush extension hair if they detangling???
This problem makes us worry when we are going to use extensions second time, because new one are just handy to clip.Its is quite easy step just hold all extensions in your hand , firmly grip the roots in your palm and then brush them with a little stroke,don't do it smoothly,it would pluck your extension hairs.
Things must kept in view while applying extensions.
Although it's an easy DIY process but in the presence of experts, your natural hairs and expensive extensions won't damage.tzey will see the nature and volume of your hairs and then decide to apply where there is need.
1:hairs must be clean
Make sure that your hairs are clean and dry,clean hairs are light in weight so easily mingle with the extension hairs.in damp hairs the extension would not stick properly.you might experience embarrassed.
2:make clear hair sections
While discussing in application method we told you about the horizontal and vertical sections of the hairs,the clean and clear sections will allow to tape in the extensions properly moreover a balance of extensions is possible for salon like look.
3:take fine and thin sections
While applying them take fine and thin sections that will make it easy to stick the extension with hairs properly.
4:don't apply the hair color on same day
This is because your hairs have gone through a little process in which your hairs are quite senstive now,beared the weight of extensions.so if you will apply the hair color on same day you might have experience uneasiness and itching.
5: hair treatment on same day is prohibited
If your going for any hair treatment like chemical straightener or karatin treatment,deep conditioning.all of these are prohibited because your hair already gone through a difficult process.
Benefits of tape in hair extensions
Above we discussed the method of hair extensions it is easy to use that why we find some of its merits
Quick and easy method
Application of such extensions are quite easy as compared to wigs and long hair extensions.they are difficult to set and uncertain on styling.you just have to remove sticker from the edge and apply it.
Hair styling is possible
After applying you can use them as natural hairs by applying the heat treatment like curling and straightening.although excessive use of heat is harmful.
Economical
These hair extensions are economical in nature in different prices these are available you can choose them according to your buget.
Disadvantages of tape in hair extensions
Here some of its disadvantages are as below
Damage natural hairs
While sticking to the natural hairs they ruin the natural hairs after removing.mostly hairs are plucked from roots.that is really an irritating process.
Salon styling is much expensive
Every one wants beauty with perfection but in the case of extensions it is not so,salon charge too much which is not economical at all.
Expensive extension care products
One has to buy along with extensions a special brush, shampoo, conditioner, sprays which make them away from the budget.
Difference between normal and expensive hair extensions
Yes a question rose in our minds that why to spend to much on expensive hair products??? Because both of them woul be stick to hairs what is the difference so we will tell you the reason of ordinary and special hair extensions.
Ordinary one are not in proper form from tip to root mostly hairs are short and some are long,so they don't look perfect with natural hairs.while the special ones are equal fro tip to root with equal volume and really gives bounce to hairs.
Ordinary are rough to touch because the are not fully made of human hairs but the good quality extensions are sleek and fine and hundred percent original hairs.
Ordinary one are not heat resistant but the real one are.
Ordinary comes in low packaging in rough packaging meterial but expensive are with their care products and brush so they can be used or a long time.
Summary
We discussed in detail about the hair extensions,why there is need and how they are used.then we saw different FAQs that are they costly if compared to their working.
Then we see how to apply them and we fine that after proper sections if you apply them they will look more natural and according to your hair type how much you should apply.normally 40 are enough but if your natural hair are thin then maximum 60 you can use.
Then we saw different extension product that can increase it's life.normally the hair extensions last for sixx to eight week then you need to change this but if you cared them you can increase the life spam.
Then we consider different mirits and demirits of these extensions,from merits we can say that these extensions are easy to apply,diy, economical,and in demirits we see that they pluck yo use your natural hair if you're trying to remove it and they don't remain economical when you throw them away after some weeks.
Then we saw the difference of ordinary and expensive extensions.there are certain differences between them like quality,feeling on touching, colors, durability,and extension care products.
FAQs
1:How long do Tape in hair extensions last?
And:It can easily last for 6 months,if you use it carefully.
2:Do Tape in hair extensions ruin your hair?
Ans:No is is a myth only,it is very safe for your hairs.
3:How expensive are tape in extensions?
Ans:well it depands upon your hair length and quality you want but it would cost you 300$ approximately.
Conclusion
Hair extensions are great to use in case of protect your hairs from damaging,they are easy to apply and instantly allow you to enjoy the feeling of long hairs.these extensions come in different quality according to your budget,simple to use just peel of the sticker and use.some cares that should be keep in view while applying and removing it,and how to maximize the time if it's use with extension care products.[quote="Manum, post:1, topic:31272"]
We discussed in detail about the hair extensions,why there is need and how they are used.then we saw different FAQs that are they costly if compared to their working.
Then we see how to apply them and we fine that after proper sections if you apply them they will look more natural and according to your hair type how much you should apply.normally 40 are enough but if your natural hair are thin then maximum 60 you can use.
Then we saw different extension product that can increase it's life.normally the hair extensions last for sixx to eight week then you need to change this but if you cared them you can increase the life spam.
Then we consider different mirits and demirits of these extensions,from merits we can say that these extensions are easy to apply,diy, economical,and in demirits we see that they pluck your natural hair if you're trying to remove it and they don't remain economical when you throw them away after some weeks.
Then we saw the difference of ordinary and expensive extensions.there are certain differences between them like quality,feeling on touching, colors, durability,and extension care products
[/quote]