The simple answer of how to remove eyelash extensions at home is: Dip two cotton pads with cleansing water, place them under your eyes, dip a cotton bud with eyelash remover, apply it on eyelash extension, leave it for 10 minutes, then remove lashes with a dry cotton bud, then rinse your eyes well.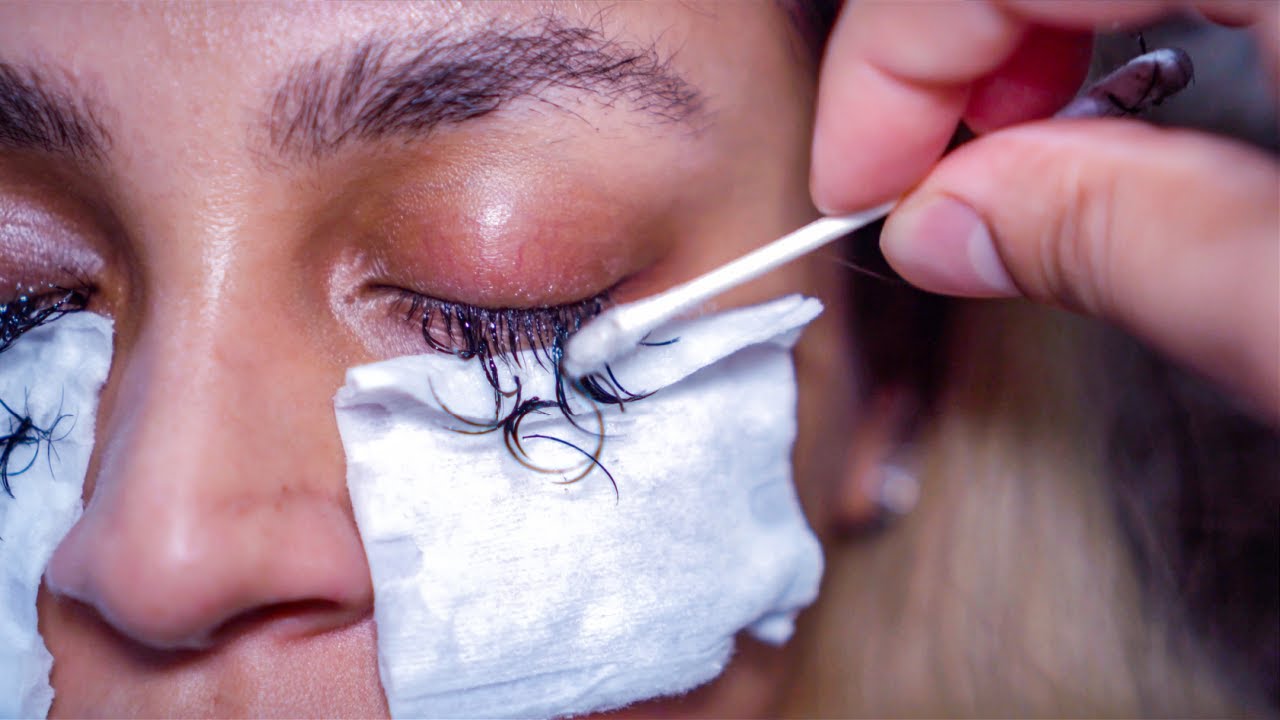 Different Ways To Remove Eyelash Extensions At Home
Eyelash extensions are very in these days like lash lift, they give a beautiful look to your eyes which looks very attractive. These extensions look good but don't last for too long after a time period they become dusty and crusty which doesn't feel nice and also not hygienic for our eyes, so they need to be removed.
Some times it's hard to get an appointment with a professional, or don't have much time to maintain these things, then you need to do it all by yourself, If you want to know how to remove eyelash extensions at home, there are some tips and tricks shared below:
1. How To Remove Eyelash Extensions At Home With Olive Oil
Things you Need
Olive oil
Cotton pads
Cotton buds.
First, fold cotton pad, then put it under your eyelash, close your eyes in a way that lashes lie on the cotton pad(this will prevent your eyes from getting oil in it and burning), then dip a cotton bud in olive oil, apply on your eyelashes and gently remove them, keep doing it patiently until you remove all of your extensions, afterward wipe your eyes with a dry cotton pad and rinse them with cool water, apply eyelash serum for additional care.
2. How To Remove Eyelash Extensions With Vaseline
Things we need:
Steamer or bowl with hot water

Vaseline

Cotton buds
First, if you are wearing any makeup remove it with makeup remover, place your face over a steamer or a bowl with hot water, put a towel over your head(be careful with hot water it can burn your skin) take 5 minutes of steam so can lash glue allows to remove easier, dip a cotton bud in vaseline and apply it on your lashes in a swiping motion gently so that lashes can get off easily, after removing all of them rinse your eyes to remove vaseline and moisturize natural lashes as needed.
3.How To Remove Eyelash Extension At Home With Coconut Oil
Thing We Need
Coconut Oil

Cotton Buds

Cotton Pads
Firstly try to take a hot shower, the steam of the hot shower will help to loosen the adhesive glue which is used to stick the extension, after shower applies coconut oil on your extensions with a cotton bud and allow it to sit for at least 3 minutes then remove it by gently wiping up by a cotton bud, after removing all of the extensions wipe your eyes with a cotton pad, rinse them well and moisture it as needed.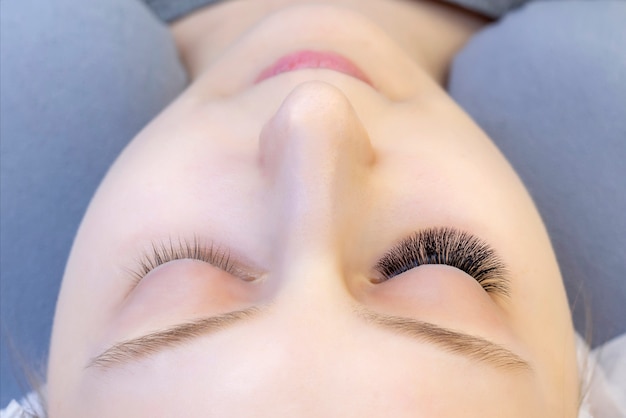 More Readable Articles
Eyebrow Slit
Sew in Hair Extensions
Natural Lash Extensions
Additional Tips To Remove Eyelash Extensions At Home
Eyelash extensions are comparatively high-maintenance—same as acrylic nails, to circumvent early breakage, there are tons of instructions for proper attention. But if you aim to take those falsies away, you can seek the reverse approach. Keep in mind: The following ways are not overnight solutions, but they can support in speed up the process.
Oil-based makeup remover
The top rule of caring for eyelash extensions is to leave an oil-based makeup remover as it can release the adhesive. But if you need to cut the bond, wipe off the makeup with an oil-based remover. And you can completely do this to get the advantages even if you don't wear any makeup on.
Heavy Moisturizing eye cream.
Eye creams that carry oils like, rosehip, argan, sunflower, squalane, and jojoba, for example, will help more in breaking down eyelash adhesive over time, also give skin benefits in bonus.
Coconut or castor oil before bed.
For a related impact that's more targeted, soak a clean spool in a small quantity of castor oil or coconut oil, then gently massage onto your lashes before going to bed. Throughout the night, the oil will help to release the adhesive keeping your extensions on.
Hot, steamy shower.
Turn your hot shower on let the steam builds then take your shower as you regularly do, taking a hot shower can help to loosen the adhesive that is holding your extensions.

Read More
How To Grow Eyelashes?
Grapeseed Oil for Hairs
How To Grow a Beard?
Removing Eyelash Extensions At Home: Is It Safe?
Instead of removing your eyelash extensions at home, it will be a better idea to remove them by a professional, it will be the safest way for your natural lashes and your eyes. Like some hair extensions eyelash extensions are usually attached using a surgical-grade glue, which is dangerous to mess with. The glue can easily spread bacteria in our eye area if we detach the eyelash in the wrong way, a professional has lots of experience which have gained through several hours of training which helps them to do their work properly. So it will be better to go to a professional instead of removing them by yourself.
But there are several reasons and different circumstances where you are unable to go to a professional and have to do it yourself. Whether you're in-between appointments or want to get rid of extensions for some time to have a natural look, fortunately, there are a few damage-free, professional-approved methods to remove eyelash extensions at home. Just heed to be more careful and more hygienic while taking the matter into your hands.
How Long Does Eyelash Extensions Last?
As the same natural cycle of shedding and growing eyelashes also follow the same rule as our hairs on the head do. All of your lashes are not at the same stage at every point in time, which means that when some of your lashes are in a good period of growth at the same time some of your lashes are ready to fall. Since a single extension is affixed to a single lash, that extension will drop by itself when the eyelash drops from the lash line. If you aren't increasing this dropping process by rubbing your eyes, applying mascara, or negotiating the adhesive with creamy eye products, your lash extensions will remain for a month before you require a refill appointment.
Until you're transforming off of extensions, refills are important each 2-4 weeks to secure the best outcome. Since any of your particular lashes is at a distinct step in the germination cycle, you'll begin to see an extra diverged appearance next 2-4 weeks as new original lashes come in any lashes that have an extension joined commence to fall out.
Frequently Asked Questions
Some of the most asked questions about how to remove eyelash extensions at home are listed below:
1. What is the fastest way to remove eyelash extensions?
Dip a cotton bud in coconut oil or with an eye makeup remover. gently massage to your extensions for few minutes and they should drop off. Don't push stubborn extensions – repeat with coconut oil within few days
2. What is the best eyelash extension remover?
Applying a cream remover is the most harmless way to eliminate lash extensions. The cream lash adhesive remover is used to eliminate the whole set of extensions. This heavy cream-like consistent remover is comfortable to use and meets the extensions very well without going into the eyes or skin.
3. What do professionals use to remove eyelash extensions?
The professional will use an eyelash adhesive remover to dissolve the hard links from the glue so that the extensions drop off.
Conclusion
How to remove eyelash extensions at home poses the enormous unwanted hazard of messing with your actual lashes, and all the lash professionals strongly oppose it. The best way is to allow them to grow and the extensions to drop out organically. If you try to remove it at home, you may pluck your natural lashes, which will not only be unpleasant but can also lose and damage your lashes.
But besides everything if you really want to remove falsies with olive oil, coconut oil, or any other DIY's are available in huge quantity on the internet, some of them are shared in this article also. But you need to be very careful if doing it yourself because false lashes are attached strand by strand it can leave a hairless spot that can never grow.