How fast can cows run? A cow can approximately cover 328 feet in about 12.8 seconds. But the speed of cow may vary with its different breed. The fastest cow runs with the speed of 40 km per hour.
WHAT IS A COW?
Cow is the female of cattle, its masculine (male) is bull. Cows are one of the most common types of domestic animals. Domestic animal means an animal which is not wild and it can be kept as a pet or it has a mutual relationship with human beings, for example, cats, dogs, donkey, camel, sheep and many more. Cattle are the member of biological subfamily Bovinae. Cattle belong to the phylum Chordata and class Mammalia. Their biological name is B. taurus.
They are raised as livestock, the agricultural setting; they produce meat, beef obtain from older cattle, while veal is the meat of calves, quality milk and hides or skin which is used by humans to make leather. They are used as the draft animals, an animal which is trained to achieve tasks, which pull carts and plough. Their other product is dung, which is the waste product (faeces) of animal, cattle's waste product is used to create manure, which is an organic matter used as a fertilizer in agriculture.
An infant cow is called "calf"; a female calf is known as "yearling calf" or "heifer", while male calf is called "bull calf". In United States, a castrated bull is known as "steer", in other countries it is said as "bullocks".
FACTS OF COWS
NUTRITION
Cows are warm blooded mammals. Their nutritional requirement depends on plants, i.e. they belong to herbivorous group. A cow can eat about 50 to 100 kg of grass per day and takes 8 to 10 hours for grazing.
GESTATION PERIOD
Their gestation period is 283 days long, which is same as 9 months. An average weight of newborn calf ranges between 25 to 48 kg (which is 55 to 99 lb).
LIFE SPAN
They live an average life of 18 to 22 years. "Big Bertha" is the oldest recorded cow which died at the age of 48 in 1993. Big Bertha produced 39 calves during her lifetime.
DAIRY COWS
Dairy cows produce milk for 10 months, following the birth of calf. She approximately produces milk twice a day, on average 30 liters, which is 8 gallons of milk. However, the actual amount of milk varies from age and breed of the cow.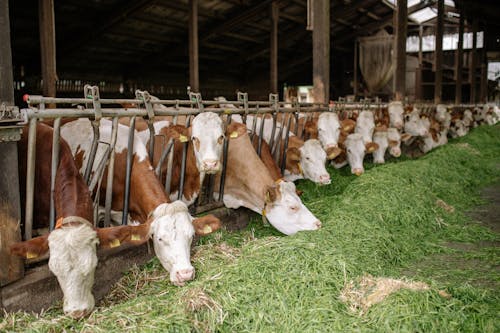 BODY TEMPERATURE
The normal body temperature of an adult cow is 101.5 oF, which is same as 38.5 oC. The temperature above 103 oF may indicate infection.
WEIGHT
An average mass of an adult bull is 1100 kg, while an adult cow has 720 kg. Weight of cattle depends on their breed. Smaller cattle's weight ranges between 272 to 454 kg, while the larger ones have 635 to 1134 kg.
SALIVA
Cattle produce around 40 to 150 liters; that is 10 to 45 gallons of saliva each day, the quantity is somewhat five to ten big buckets of spit.
SLEEP TIME
A cow sleeps for about 4 hours a day and drowse for about 8 hours per day. They lie down to sleep.
TEETH
Cows have 32 teeth, including six incisors and two canines in the front on the bottom jaw. Unlike carnivorous animals, their canines are not pointed instead they look like incisors. They have no upper front teeth. The age of cows can be estimated by the number of incisors present in the jaw.
SUMMARY: Cow is the feminine form of cattle. They are mostly brought up in farms to give merits to humans. Some important characteristics of cows are also written above.
SENSES OF COWS
Just like human beings, cows too have five most recognized sensory organs, which they use for vision, smelling, taste, hearing and touch. The sense of vision is the most dominant one. They constantly monitor their surroundings.
SENSE OF VISION
Cows' eyes are present at the sides of head, which allows very wide peripheral vision. They can view a wide field of 360 degrees. They have a blind spot directly behind them; this is why they move their head back and forth while walking just to keep checking it out. Cattle are red green colorblind; they can't identify the some colors as much humans can do, especially red color. It is myth that cattle are attracted to red color or they got angry by red color, but during bullfighting it is the movement of cape or red flag that angers the bull and incites it to charge. They mostly avoid bright light.
SENSE OF SMELLING
Cows' sense of smell is their best defense mechanism. They can detect smell up to 6 miles away. A cow has a better sense of smell than human beings. The smell of blood can make cows stressed, even the bone fertilizers can make them upset. Anger cows warn humans by smelling hardly.
TASTE
A cow has an average of 20 to 25 thousand taste buds; which is two to three times more than a human has. Cattle can distinguish all four primary tastes, which are sour, sweet, bitter and salty. They mostly avoid bitter taste food and prefer sweet and salty food. Cows bring up their swallowed again and re chew it. On average, cows move their jaws 50 times a minute, which is approximately 72 thousand times a day.
HEARING
Cows have wider range of hearing than humans. Cows' hearing ranges from 23 Hz to 35 kHz. Their highest sensitivity frequency is 8 kHz and the lowest is -21 db, which is 20 μN/m−2. Cows are attracted to really good music; they listen it and seem to be quite absorbed. Mostly, they listen regularly in milking parlors. High pitched noises can scare cows, because loud noise is in the wild is used as an alarm calls when a predator is around. These high note sounds cause them to run.
SENSE OF TOUCH
They have very sensitive skin. They can feel flies on them and can flick them off with a simple twitch of that localized area. Cattle have tactile sensations which are detected mainly by thermoreceptors, nociceptors and mechanoreceptors which are present in their skin and muzzle. Touch is an important form of communication between cows and humans.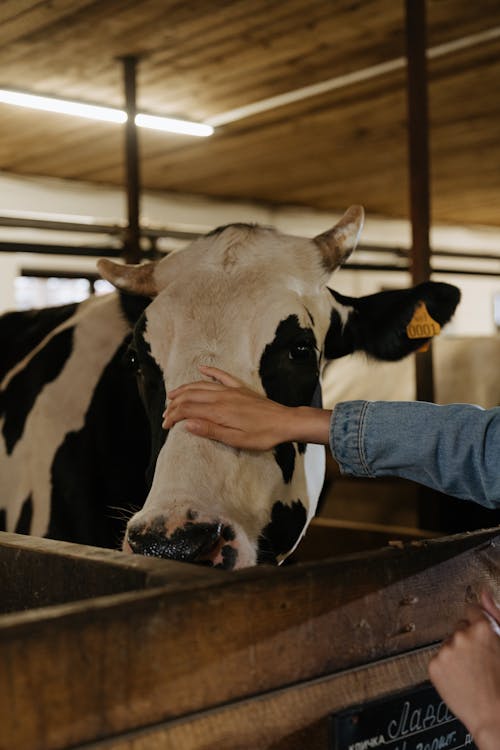 HOW FAST DOES A COW RUN?
When the word cow comes in our mind, we usually think of a calmly resting animal. But cows can actually run fast if the need arises. Whenever cows feel in danger or they get scared of the predator, they run as fast as they can. Domestic cows run much slower than the cows born in wild forests, because in forests, they try to escape faster from the predators.
On average, a cow can run 328 feet in about 12.8 seconds, which is equals to 17 miles per hour. This is a record of a cow recorded to run 40 km per hour; that is approximately equals to 25 miles per hour (mph). Cows run much faster than humans, but cows cannot change their directions as speedily as humans can. Cows are meant to run and jump. They can easily jump over four to five feet high barrier. Generally, cows walk at a pace of 180 feet per minute (about 2.05 mph). Their fastest walk is recorded as 2.11 miles per hour.
If a cow is running at you, then take advantage of your two legs and change directions. Try running in a zig zag pattern and change your route often, because cows cannot easily change their directions when running.
ABSTRACT: Cows possess all five important senses, and they know how to utilize them. Their sight is the most prominent among other senses. Cows can run much faster than humans can.
FREQUENTLY ASKED QUESTIONS (FAQS)
Which animal eats cow?
All the carnivorous animals, which depend on flesh, eat cow. Mainly, wolves and grizzly bears attack cattle in North America. While in Asia, cow are mainly killed and eaten by wolves and tigers. In Africa, lions and leopards eat cows.
Do cows have 4 stomachs?
It is myth that cows have 4 stomachs, actually cows have a single stomach with four compartments, which are the rumen, the reticulum, the omasum and the abomasum. Each chamber has its own function.
Can a person outrun a cow?
No, they run very fast. An average speed of a running cow is about 25 mph, while 15 miles per hour is considered fast for an average person. So, it is very difficult for a person to outrun a charging cow.
Do cows cry?
Yes, just like human beings, cows do cry. They too have emotions. They show pain, distress and grief. Cattle cry when under a lot of stress or when they feel scared.
CONCLUSION
How fast can cows run? The answer to this question varies with different sizes and breed of cows. On average, a cow can run fast 17 miles per hour. The fastest run of a cow is recorded as 25 miles per hour, which is same as 40 km/h. Running cow is always hard to handle, because her speed is much faster than humans.
READ ALSO
How Fast Can A horse Run?
Does Cheese Have Lactose?
Best dog health insurance