If you're using any device or account managed by your University, the University management will obviously have access to your account activity on that particular device. No the teacher will not be informed if you are using your own device. As Google Form has no such type of functionality. However institutes may choose to use third party apps for example auto proctor which integrate with Google Form to provide such a monitoring facility.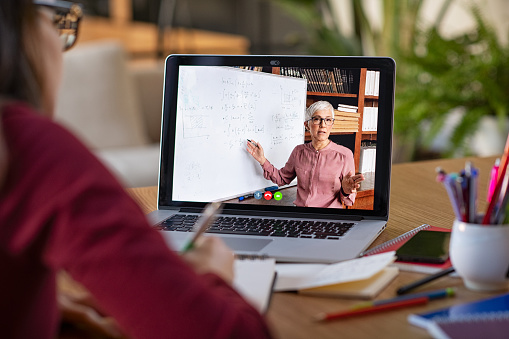 So in a nutshell if you are using Google Forms directly, then teacher will not be notified however if using with a third party then teachers may be notified.
If you are using a Chromebook managed by your institute, your teacher will have the ability to lock your device while you give a quiz.
Here is what happens when the quiz is in lock mode:
Students can't open other browser tabs for cheating.

The teacher will be notified through email if a student exits the quiz or opens any other tab.

Unmanaged devices can't open the quiz.

Some extensions and keyboard shortcuts are also disabled.
Ap classroom lockdown browser
1) Download and Install LockDown Browser
Your instructor or institution will provide a unique download link for LockDown Browser.
Download and install the application.
2) Open LockDown Browser and Log In
Locate the "LockDown Browser" icon on the desktop and double-click it. (Mac users will see it in the Applications folder.)
Now at this point LockDown Browser may prompt you to close certain applications that are running on the computer.
Log in to your online course.
3) Locate the Exam
Locate the exam that requires the use of LockDown Browser. If your invigilator doesn't require the use of a webcam the exam will begin immediately. You won't be able to print, access other applications, copy, or go to other websites during the exam.
If you attempt to start the exam with a browser different than LockDown Browser you will see a message like the one below 'you'll need to exit the browser and open LockDown Browser' instead.
4) Complete the Start-up Steps
If your exam requires the use of a 'webcam' sometimes referred to as Respondus Monitor, you will be guided through a brief set of screens prior to the start of the exam.
The first screen is a webcam check, where you can make sure the webcam is working properly. Additional steps may be required by your invigilator, such as showing your identification, or recording a brief video of your examination setting.
5) Take Your Exam
Once the exam begins, a "Recording" icon will appear at the top right of the screen.
Don't attempt to exit the exam until you are finished. Additionally, you won't be able to print, copy, access other applications, or go to other websites during the exam.
When the exam is submitted for grading, the webcam will stop recording and you may exit LockDown Browser.
Which student devices are supported?
Windows or Mac computers (using Chrome, Firefox, or Safari 10 or higher)
School-managed Chromebooks.
iPad (operating system 12 or higher) test administration is supported, but students may miss troubleshooting messages.
Mobile phones are not supported.
Limitations or known issues with LockDown Browser for Chromebook (beta):
Quiz passwords (specified through the "optional password" field in the LockDown Browser Dashboard) aren't currently supported.
The Respondus Monitor "optional password" field is supported. This password field let students to bypass the use of a webcam for exams using Respondus Monitor.
The "Early Exit" option in LockDown Browser isn't currently supported
LockDown Browser's Calculator and Spreadsheet features aren't currently supported
The extended keyboard functions (for adding special characters and symbols) isn't currently available
(Canvas) When opening New Quizzes, students currently encounter a warning that the browser can't open this page (this can be ignored)
LockDown Browser's "Help Center" is currently not available.
Allow access to specific external web domains tab is currently not supported.
(Brightspace) Pop-ups need to be enabled in Chrome for the server otherwise the student gets stuck on the Start Quiz page.
(Canvas, D2L and others) Google Chrome OS can't open this page error will occur.
Like other Google applications, you need a Google account to use it. But not just any Google account will do for Classroom you need a Google Apps too for Education account. This is different than your standard Google account. Follow the steps below to set one up.
Make sure you have all the appropriate permissions to set this up from your institution or department.
Open a Web browser and go to classroom.google.com. You have to sign in with a Google account.

If you are using a regular Google account, you will see a message that says Sorry, Classroom is only available for Google Apps for Education Users at this time. Click the Get Started with App button.

On the Google Apps for Education page, you can read all about the service and instructions, or just click the Get Apps Today button in the top right.

Fill out the form with your institutional information and click the tab next.

Most likely, your school has a Web site and you will want to use that. Click the Use a Domain Name I Have Already Purchased option and type in the domain.

Click the option next.

Type in the username and password that you want to use.

Type in the requested text in the picture to prove you're not a robot, check the Read and Agree box, and click Accept and Signup.
Google creates your account and logs you in to the admin portal. From there, you'll have to verify your domain, which means you'll have to prove you own it. If you're using your school's domain, you'll need your Webmaster's help on that step.
If, in Step 5, you don't have a domain that you can use, you can purchase your own through Google. A .com or .org domain costs 12 dollar per year; a .net domain costs 10 dollar. If you choose this option, you'll be lead through the purchase process; you'll need a credit card to charge the domain fee to.
Frequently Asked Questions
Can AP classroom see if you switch tabs?
Teachers can have an eye on you when you switch tabs and how often you do it on ap classroom.
Can Testmoz detect cheating?
Testmoz offers a password based anti-cheating interface where only the admin or instructor of a test can edit it. The whole tool can be seen at their main page. Overall, Testmoz gives a very simple and clear interface for test-generating and test-taking functionality.
Can AP classroom detect copy and paste?
Yes, your teachers will know if you copy and paste. They run the assignment through a system that detects plagiarism and you will be caught for it.
Can Moodle tell if you cheat?
Though many teachers who work through Moodle will expect students to use their resources, there are ways to make it tougher. They will not be able to tell if you are directly cheating and most teachers will try to make questions harder if they know you plan on using your textbook or the internet browser.
Can canvas detect cheating?
Canvas can detect cheating in online exams and quizes by using both technical and non-technical methods. Technical tools used include proctoring software, lockdown browsers, and plagiarism scanners. Non-technical methods used include exchanging questions and comparing answers.
Can zoom detect cheating?
Zoom proctoring can be used to increase the difficulty students' face in collaborating without authorization or using unauthorized resources without detection during the exam. It also cannot prevent or detect cheating by students who are highly motivated to do so and plan their tactics in advance
Can canvas see if you change tabs?
Can Blackboard or Canvas Detect Switching to Open Tabs? Ideally, Canvas cannot detect if a student opened new tabs in a web browser or opened a new application or web browser during a quiz or test. However, if proctored, Canvas will monitor and prevent student's browser activity.
Can you cheat on ProctorU?
ProctorU and Examity do not take any steps to stop cheating by using a virtual machine. Cheating is as easily done as loading up a virtual machine and taking the test inside of it, while you do anything you want on the host machine.
Can your teacher see you on Zoom?
If you're worried about getting busted by your instructor you can relax: Zoom software does not allow your teacher (or anyone else) to see your own computer screen unless you actively engage the "Share My Screen" feature.
Related Articles


What Is Google Classroom?
Online education stocks
How To Be A Successful Online Student?