What are Indian sarees? Most elegant ethnic wears in India. Women across the globe love to wear Indian sarees. Women are Fascinated by the beauty and gorgeousness of Indian sarees. Sarees can make women look stunning and captivating, when draped in right way, paired with right jewelry. In India, there are different types of sarees ,every region has its own specialty in designing sarees.Saree fit to be worn as a wedding ,festive outfit or even as bridal wear.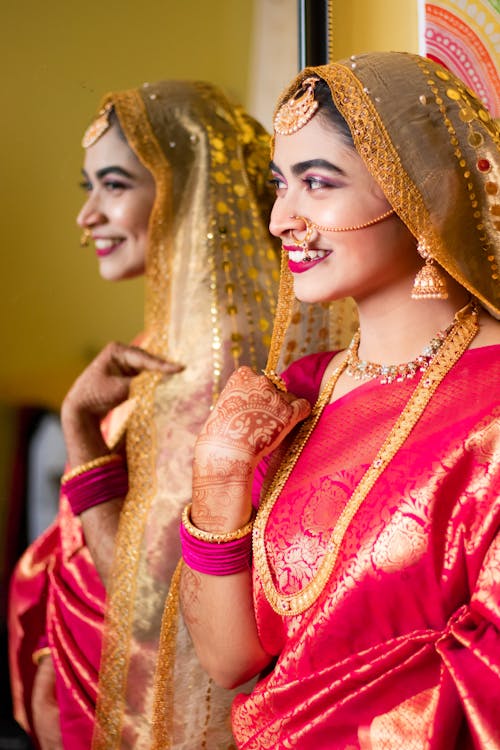 Saree Types and designs:
Elegance of saree is unmatched and women love to wear saree is unconditional. In India sarees come in different designs and style. Some types are as follow which are most popular sarees in India:
1. Kanjeevaram Saree:
This saree is specialty of Tamil Nadu, which is considered to be bridal sarees, mostly adopted on special occasion. Kanjeevaram saree pallu is usually a contrast color adding more flavor and color to the beauty of saree.
2. Fabric, Color:
This saree is weaved from pure mulberry silk thread. It also has gold tint to enhance its look.Moreover, The color of saree is Vivacious, having royal border giving over all look of ornate aura.
3. Nauvari Saree:
This is traditional Indian saree originated from Maharashtra. The length of this saree is 9 yards long. The border of this saree is tucked in the back. Mostly this saree is carried in a dhoti style ,which help them to move easily. Nauvari saree is mostly a wedding saree, bride really look beautiful in this saree. Its style is unique therefore it is distinctive among other sarees.
4. Bandhani Saree:
Bandhani is famous saree of Gujrat. This saree is associated with an old belief of good luck and future for the bride. It has unique pattern of colors which make this saree more attractive. There is need to handle this saree with extreme care due to its intricate design.
5. Tant Saree:
This distinguishable saree is from west Bengal. The color of saree is red and white with an elegant look. Every Bengali women prefer to wear Tant saree so , it is essential of every women wardrobe. Pallu of this saree is relatively heavy and it has zari work on it .One can easily wear this saree in humid weather.
6. Banarasi Saree:
This is a silk saree from Varanasi. This saree is famous for their pattrens and motifs. It is one the elegant saree in India which was crafted with real thread of gold and silver. Now a days it is designed with variations but its beauty is still as it was before. It is mostly suitable for occasions. One of the finest and most popular sarees is the Banarasi, fit to be worn as a wedding/festive outfit or even as bridal wear. It is known for their rich zari embroideries on the best of the silks. These sarees are a little on the heavier side.
7. Chikankari Saree:
This saree is specialty of Lucknow. It has heavy embroidery on it with gorgeous and as soothing colors make this intricate saree more stunning.
8. Bomkai Saree:
It is from Odisha. It is a traditional saree but look modern. Mostly cotton fabric is used but silk stuff really enhance beauty of Bomkai saree. It has a lot of color contrast yellow with green. This saree is sign of grace as it carries hidden past and mythological motifs.
9. Chanderi Saree:
This alluring saree is from Madhya Pradesh. Its fabric is light due to interwoven of silk with cotton. It is most suitable for occasional wear.
10. Kasavu Saree:
It is a stunning ,radiant and beautiful bridal saree. It is white with golden boarder which make it more stunner. Mostly its stole is draped across to give this saree a fancy look.
Summary:

Saree is priority of every women on wedding, festival which enhance their beauty much more Almost every Indian state or region bears at least one specific design and style of saree that has a different look , designs, weave, and fabric, can be easily distinguished from the rest. Every region in India has its own specialty regarding designing saree. Mostly chiffon, cotton and silk fabric are used to make saree. Different color contrast and combination are used to enhance the beauty of saree. Moreover, some sarees are with heavy boarder which are really suitable for bride to wear in her wedding.
Style tips:
The way you carry saree really matter. If saree is paired with unmatched jewelry and accessories ,the beauty of saree will remain recessive. Therefore, good pair of jewelry and beautiful styling of saree is really necessary in order to enhance the elegance of saree.
Golden Jewelry:
Usually ,Kanjeevaram saree is coupled with golden jewelry to enhance its beauty. Nauvari saree is styled with gold jewelry and a nath winch really add beauty to this saree. Hair style is a top bun with gajra .
Silver Jewelry:
Silver jewelry is styled with Tant saree which really looks elegant when carried with a potli bag.
Loose curls or high bun are perfect match with Tant saree. Some silver Jumkas are also styled with sarees which give a stunning appearance.
Kundan Jewelry:
You can beautifully style kundan jewelry with hairstyle of loose bun with some flowers tucked in to glorify this saree. Chanderi saree is also paired with kundan jewelry .
Gajra and Bun:
Gajra is beautifully styled with sarees. it enhance the elegance of saree as viewers and give the viewers fresh look. If you are wearing saree, you can make a bun hair style which will really compliment your outfit One can may follow loose bun and curl hairstyle for proper styling of saree. Chunky accessories also play role in embellishing sarees.
Tips For Flawless Saree:
Before buying saree, read the given instructions properly that of which materials the saree is made up of. For latest saree designs search Instagram and follow different pages in oder to get latest updates. Always carry safety pins with you, they will help you to keep you outfit in one place. heavy boarder sarees are also difficult to carry therefore properly secure the border with pins. When you are wearing saree in winter season you may style shawl or jacket with it ,it will give beautiful look.
Saree Fabric:
Different types of fabrics are used to design sarees. Silk fabric is usually used. Moreover, cotton, chiffon, georgette, jacquard fabrics are also preferred. Silk fabric is airy, light and. comfortable. Silk sarees can preferably wear in summer season. Chiffon is also light weight with transparent appearance, its fiber is nylon, rayon. Cotton sarees are most famous and every one love waring cotton sarees. These are non stretchy and luxurious. Georgette is light weight , sheer fabric and crinkled. Each fabric has its own uniqueness and comfort zone.
Saree Handling:
Some people are good at wearing saree while others feel difficulties while handling saree. If you are not very accustomed to wearing sarees, handling a heavy saree may get a little difficult for you. But don't consider it a serious issue. Chiffon Sarees are there to help you. Flowy, easy to drape, this saree is lightweight, super elegant, and fit to be worn to parties .There are so many other options that you might feel a little overwhelmed. But we make buying Indian saris online. Scroll through this infographic to find some of the most beautiful sarees online at any shop. You will find beautiful collections of online which you can order to make you events mesmerizing. Sp go to Instagram, You will get access to multiple sites which will give you beautiful ideas for wearing saree.
Saree Matching:

Every women love to wear saree. Just wearing saree is not enough, proper styling of saree is very important to retain its beauty. If you wear saree without making proper hair style the beauty of saree will fade. Therefore, try to make bun of your hair or prefer loose curls while wearing saree. Same goes with jewelry, pair match jewelry and accessories with your saree. You may match golden, silver jewelry . In addition, Before buying a saree, properly view the stuff either it is made up of chiffon or cotton, so you could buy saree of your choice.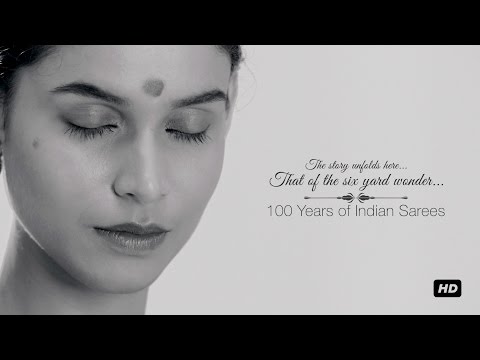 | Cotton Fabric Saree | Silk Fabric Saree |
| --- | --- |
| This fabric is preferred during summer | This fabric is suitable for weddings and festivals |
| Need good maintenance | Difficult to carry. |
| You can wear cotton fabric casually | You can't use it on daily basis |
| It is soft, light weight and easy to handle | Silk fabric is made up of protein derived from silk protein |
| You may wear casual jewelry with cotton saree | While silk saree requires proper jewelry and hair styling |
##FAQS:
1. How to choose wedding saree?
For wedding saree, try to choose such stuff which is easy to carry and handle i.e chiffon, cotton. You will feel super easy and comfortable wearing light stuff in wedding. In summer season, always prefer to wear cotton fabric saree, it will give beautiful look as well as
you feel light.
2. Is silk good material for wedding?
Yes you can carry silk saree in weddings for glamorous look. Heavy work on saree really make it suitable of wedding events. Proper jewelry pair will enhance its beauty.
3. Which type of saree makes you look thin?
Light weight fabric saree will make you look thin. Mostly, chiffon and cotton fabric is of light weight. You will feel so light wearing cotton fabric specially in summer season.
4. What is Brasso saree?
By burning parts of fabric, motifs of this saree are made. It motifs on chiffon and georgette make this saree really captivating. You would just love to wear this saree because of its delicate work.
5. How many types of sarees are there?
Around thirty types of sarees are present in India. Among 30 sarees, each saree is specific to certain region and dignify some traditional beliefs of that region.
6. Can non India wear saree?
Any one can wear saree. Whether you are Indian or Non Indian you can wear saree. Saree wear is not specific to a certain geography. If you love saree, then you can wear it.
7. Which is most expensive saree?
Vivaah Patu is considered an expensive saree. It is made up of stones and embroidery. Mostly Chennai Silk is used to wave this beautiful saree.
8. Is it necessary to wear saree after marriage?
It is not necessary to wear saree after marriage. Wearing saree is not associated with marriage. You can wear it even before marriage on any special occasion. When you love it, just wear it.
9. Which Indian saree is best?
Banarasi saree is considered among best saree in India. This saree is appreciated world wide due to its unique fabric and attractive design.
10. What type of saree is in trend?
Saree with thin borders are in trending. You would definitely carry this saree easily, saree's with heavy borders are difficult to carry and you need pins to fix them.
Conclusion:

We can't deny the beauty and elegance of saree in our wardrobe. Wearing saree is on trending nowadays on every occasion, weddings and festivals. You may wear light stuff or heavy stuff saree according to the occasion. Silk saree are considered heavy and suitable for weddings. while Chiffon sarees are consider to be casual and easy to handle. Always keep in mind to match your jewelry and other accessories with your saree. Try to make such hair style which will enhance your saree look like bun, curls. India is famous for its sarees, among which Banarasi saree is really admired all over the world.
Related Articles: